International Conference
ZKM_Media Theater, Admission free
Thurs, Feb 27: 7 p.m.; Fri/Sat, Feb 28/March 1: 9.30 p.m.
Language: English
As part of the theoretical foundations of GLOBALE, the ZKM, in cooperation with the ifa [Institute for Foreign Cultural Relations], has organized a large-scale conference with approx. 40 curators who seismographically record and reflect the process of transformation triggered by globalization.
Worldwide biennials can be seen as mirror of the process of transformation triggered by globalization. The proliferation of the format biennial in the meantime has developed many different discourses and concepts. Against this backdrop the conference will focus on five issues:
The opening section "Biennials and Public Space" discusses the notion of art as public domain and new definitions of publicness. The section "Biennials as Motor for Social Change" attempts to find out which impact biennials can have on the transformation of societies and politics. And upon considering the impacts, which could be seen as successful.
Another panel will be devoted to "The Dynamics of Biennials and the Role of its Actors (Curators, Artists, Organizers, Audiences)". In the past years the proliferation of biennials has for instance strengthened the visibility of the curator. Which reciprocal effect have biennials had on other protagonists such as the artist or the audience? In the section "Chances and Limitations of Biennials in the Context of Marketing and Policies" we would like to address the question of how biennials deal with the demands of urban development, location marketing and political ambitions. The final panel "Alternatives ⁄⁄ Open Spaces" will lead the discussion to alternative models of biennials, which try to offer new visions for the future of the biennial. The conference forms part of the series "Biennials in Dialogue" which ifa has been organizing in collaboration with its partners since 2000. Previous conferences took place at venues in Kassel, Frankfurt am Main, Singapore and Shanghai.
Concept: Andrea Buddensieg and Elke aus dem Moore
Program
Thursday, February 27, 2014
7 p.m. Keynote Lecture
Ute Meta Bauer
Friday, February 28, 2014
9.30 a.m.−10 a.m. Introduction
10 a.m.−12 p.m. Biennials and Public Space
Chair: Carol Lu
Panel: Fulya Erdemci, Sheika Hoor Al Qasimi, Yongwoo Lee, Katja Aßmann
Respond: Blair French, Christoph Schäfer
2 p.m.−4 p.m. Biennials as Motor for Social Change
Chair: Christine Eyene
Panel: Abdellah Karoum, Patrick Mudekereza, Alia Swastika, Gerardo Mosquera
Respond: Elise Atangana, Jun Yang
4.30 p.m.−6.30 p.m. The Dynamics of Biennials and the Role of its Actors (Curators, Artists, Organizers, Audiences)
Chair: Marieke van Hal
Panel: Basak Senova, Luchezar Boyadjiev, Mônica Hoff, Tan Boon Hui
Respond: Gabriele Horn, Patricia F. Druck
Saturday, March 1, 2014
9.30 a.m.−11 a.m. Chances and Limitations of Biennials in the Context of Marketing and Policies
Chair: Sabine B. Vogel
Panel: Zhang Qing, Kasper König, Bige Örer, Nicolaus Schafhausen
Respond: Ursula Zeller, Sally Tallant
11.30 a.m.−1 p.m. Alternatives ⁄⁄ Open Spaces
Chair: Rafal Niemojewski
Panel: Leah Gordon, Pan Gongkai, Royce Smith
Final Discussion
ZKM | Karlsruhe in Cooperation with ifa (Institut für Auslandsbeziehungen) [Institute for Foreign Cultural Relations]
CHRISTOPH SCHÄFER
"I would like to add my own experiences with biennial type of constellations. I was at the Turin Youth Biennial1 curated by Michelangelo Pistoletto in 2002. I wonder if anybody in the room has seen it. It was actually quite challenging, but no one ever spoke about it, I think. And then I was at Documenta 11 with Park Fiction. And I had the pleasure and the stress of being part of Fulya's Istanbul Biennial this year.
Today I wanted to elegantly do some drawings while everybody is talking, take some pictures with my smart phone, but I gave up right when you started, because there was not enough time. But yesterday in Ute Meta Bauer's talk on public space and in Fulya's talk of course it was totally clear that space is the problem, especially public space. Even the classical definition of public space, let's say in the industrial age, was the promise of being a space of equality, a space for all. It was supposed to be, as Fulya said, a homogenous space, which it is not anymore. Also it has become very problematic because it's a highly gendered space, male-dominated space. It's also based on the public/private split that was established in the Renaissance, where things like happiness, desire, imagination or cooking started to be seen as the private and not as part of the public domain or public space. And furthermore it's largely a passive space.
Today the problematic point is – even in a situation like Gezi with a very repressive government acting like it does in Turkey right now – that public space is basically an extended business improvement zone. Everything official art does, more or less is supposed to support the business improvement function of public space. Art is basically always in danger of serving real estate owners, real estate business, the global competition between cities and elites – and all this in the age of the image city. In the age of the image city, biennials and art biennials are extremely important.
I think biennials are not the most crucial transforming factor of cities. There are other things like football championships or Olympic Games. But the weird thing is that the same architects that build museums build football stadiums these days. I just want to remind everybody that Zaha Hadid only two days ago said that she's not responsible for the 500 Bangladeshi workers who died in the process of building the Olympic Stadium in Qatar. So you have the architecture-art-sports connection that is basically transforming cities and urban spaces.
When I saw Ai Weiwei's little food wagon I had to think about the football championship in Japan and South Korea 2002. I was told that one of the rules the FIFA wanted to impose during the championship was, that in a circle of 4 km around the stadiums no one else but the sponsors McDonald's and Coca-Cola, I think, were allowed to have advertisement and sell food – which is quite a thing in cities in South Asia.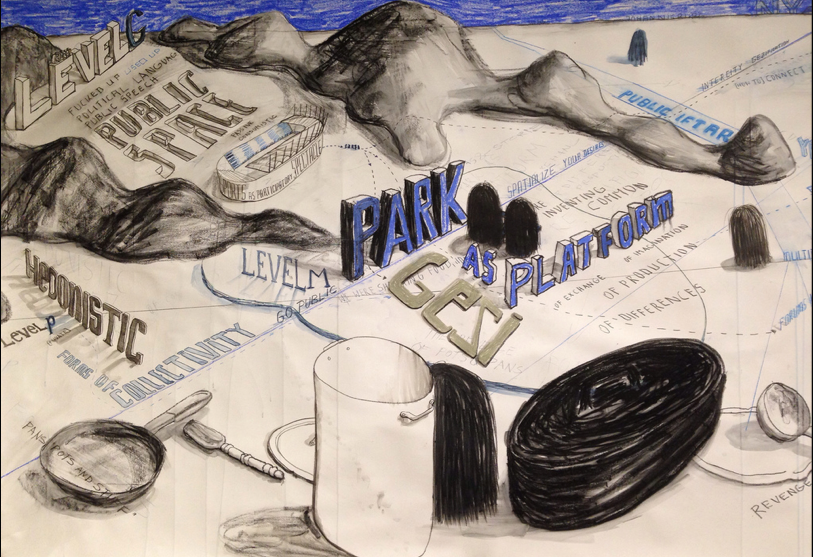 This is one of the drawings on the discussion of the local and the global we had yesterday. According to Henri Lefebvre, the city is divided into several layers: the global layer, the middle layer and the private layer, where everyday life happens. The global in this sense doesn't mean that we travel everywhere and fly in and out, but the global is a force that structures the thinking and the city. The global level is actually right now controlling all cities. The level of the everyday life is suppressed, I would say, or walking in these lines. The whole idea of public space, as we heard, was so much connected to this global thinking, global politics, global ways of thinking. But it's a poisoned space, I would say, and today it's largely dominated by elites.
As Fulya mentioned the Gezi Park Movement, I think what happens today is very important. Last year we saw not only the occupation and defense of the Gezi Park – and I must say that I like the Gezi movement, but I wouldn't call myself a supporter, that would be too much honor for me. The Gezi Occupation changed the public space into a platform of exchange, into a platform of imagination. I think that's the point where it starts to have a different function. The same can happen in football stadiums. Football stadiums are spaces mostly dominated by capital and sponsors, of spectacle and controlling crowds. But they can be turned around by the audience into arenas of protest. It doesn't only happen in Istanbul, but also in Hamburg, and it happened in Cairo before. In such moments, the very much controlled public spaces are being transformed into something new. The real challenge for biennials is to achieve such a transformation. In this drawing I drew a connection between different localized struggles. Maybe this is one of the chances biennials can take.
This picture shows an example of how the platform-building and the transformation of public space looked like in Istanbul. After Gezi was cleared, there were lots of forums in other parts of the city. There were instant public earth tables, Iftars, where people came together during the fasting period. Muslims and non-Muslims came together to share food. Suddenly the atmosphere changed completely. The public political speech that we know changed into something else.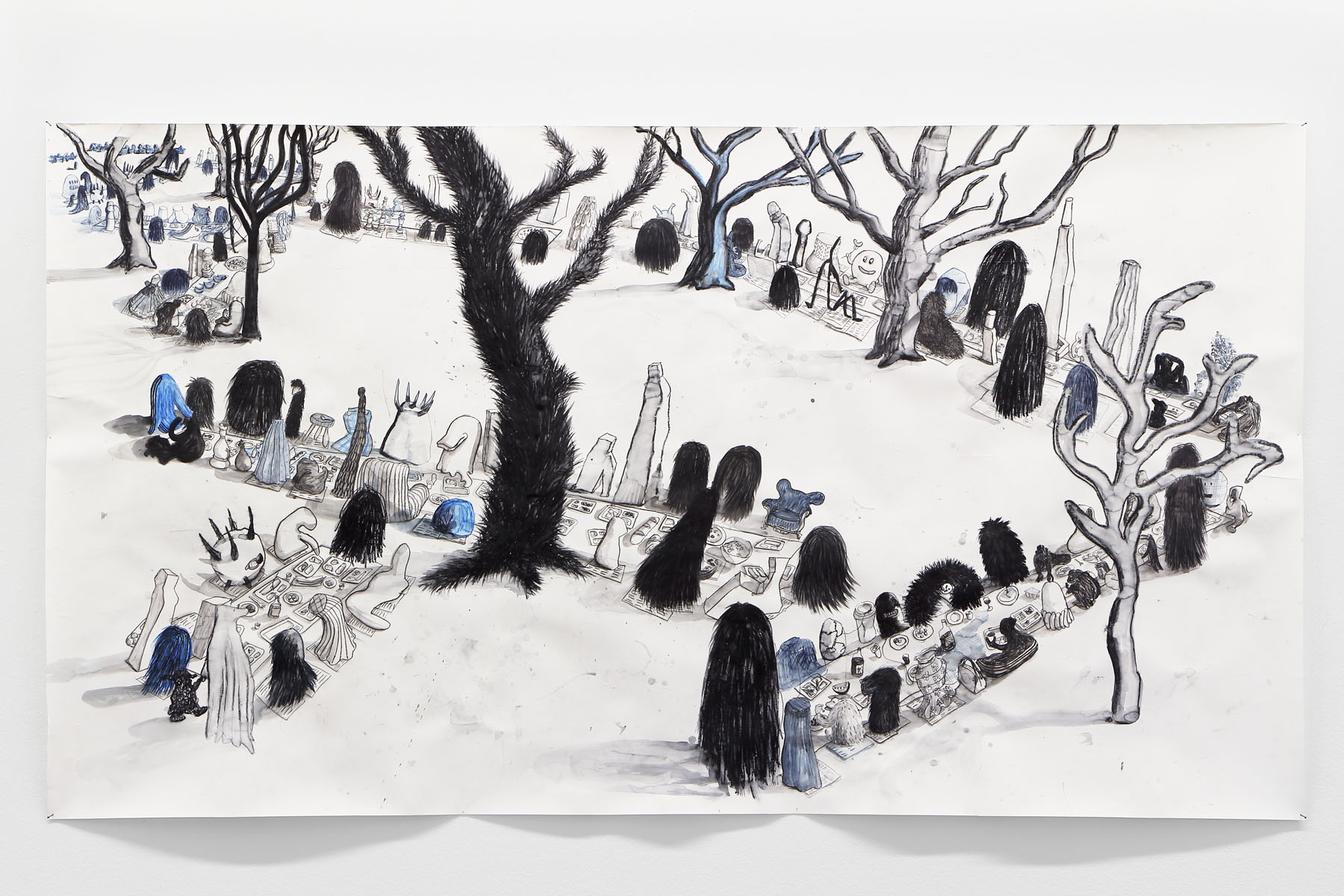 It was six weeks after Gezi when I came back to Istanbul. It was my second visit there. I couldn't meet the person I want to meet, and I was integrated into this situation in a part of the city I didn't know. Within minutes we were in a conversation that had the quality of a very well picked dinner where people who don't know each other but have a lot to say to each other come together. The conversation floated between cooking recipes, politics, philosophy, the everyday life of your job, what you do and how you would like to change it. If you have a situation where people think about how they can change their job and everyday life, you have a situation I always hoped art could be: a field of resonance where imagination can resonate, where ideas can go back and forth. When such kind of situation happens in public space, it's totally different, it's altering, and it's maybe making superfluous what art was doing up to this point.
I heard the word "platform" very often in the talks today in connection with exhibitions that usually are not platforms but exhibitions. Exhibitions are there for looking at things, not for exchanging things on the basis of equality. The type of platforms we see in short-term temporary exhibitions tend to be romanticized spaces, idealized Marie Antoinette-type villages of the poor. But if biennials try to become platforms for real exchange, they have to become something different from that.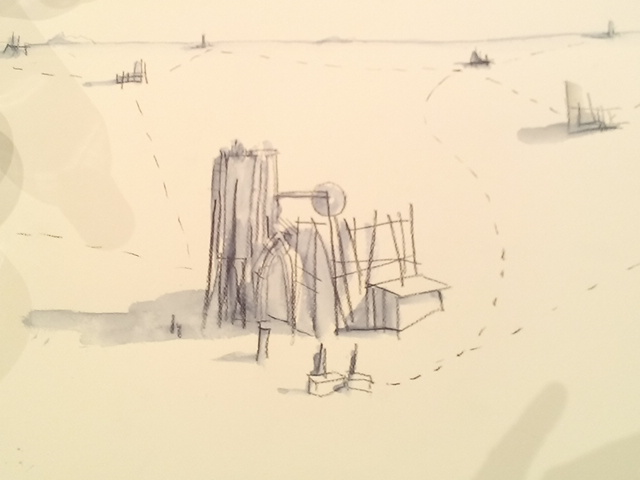 We have to think about a different model of globalization. The churches of the Gothic time and their builders might serve as a model of how I would imagine biennials to work. As you probably all know, the Gothic churches were built over hundreds of years. The builders had special knowledge that couldn't be copied easily. But they were very flexible. Whenever within the overall inflexible situation of medieval times they were crossed with the aristocrat, they could just move to a different building site and continue building there. Hence that Cathedral would remain unfinished for a long time. If we could get this kind of power into nomadism – the idea, originally by Anne Querrien, was quoted at length in the chapter on Nomadic Warfare in "Mille Plateaux" by Gilles Deleuze and Félix Guattari, so you probably all know it – it could be a fantastic example of how one could work in a global structure and at the same time leave things unfinished – and make inventions and collect knowledge, that we do not share with the dominant powers.
Thank you very much."
1BIG Torino 2002: BIG Social Game, with Lara Almarcegui, Colectivo Cambalache, COM & COM, Christoph Draeger, Miklós Erhardt, El Perro, etoy, Marcelo esposito, e-Xplo, Fran Illich, Leopold Kessler, n55, Superflex, Tmark, Anri Sala and many others.