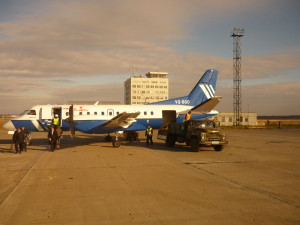 Ulyanovsk Airport, Foto: Christoph Schäfer, November 2010
NOVEMBER 8: I arrive from Moscow in a Saab airplane filled with 25 men and 2 women. While our luggage is packed on a military lorry, I feel like I finally arrived in Russia.
Even more so, when a young man in ironed black trousers picks me up with a black Wolga (with driver). The soviet associations fade as we enter the car and the sound of russian plastic pop filles the air. The road leading from the airport to Ulyanovsk is 60 meters wide. At first. Then we cross the bridge, the famous Ulyanovsk bridge, which finally, I am told, was finished – last year, after 20 years of planning. It is the second longest bridge in Europe, and quite an impressive sight, where Wolga looks as big as the sea.
I'm dropped off at the Hotel, a 22 floor modernist skyskraper from the Breshnew era. Still breathing the air and charme of that time, I have a room with a splendid view on the Lenin memorial and the Wolga. I take a little walk and come across the first social sculpture in the public space of Ulyanovsk: a bridge in front of the Hotel, filled with loads of locks, symbolising, I guess, the love of couples. Ulyanovskians are passionate people who display their feelings in public space, and happiness, to some extent, is not seen as only a private affair…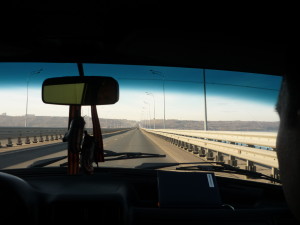 Ulyanowsk, Bridge of Traffic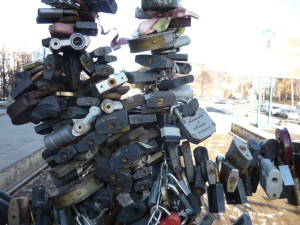 Ulyanovsk, Bridge of Love
 I take off to the local shopping mall. On the way I come across a – somehow to be expected – comrade Lenin, leaning at a wall of a backyard hut, and a few steps further, next to the mall, I encounter a – somewhat unexpected – lifesize comrade Mao standing in all his smiling pride next to a lion in front of a chinese restaurant.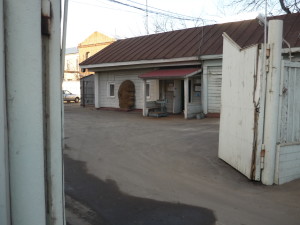 Comrade Lenin in the backyard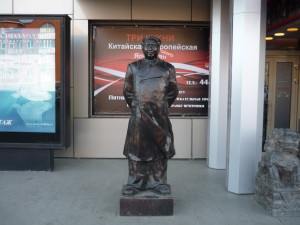 Comrade Mao in front of a coke-ad
In the shopping center there are two different play corners – one in the toyshop, another called Smiland, a small version of Ikeas Smalland. Ulyanovsk likes children, I think, and provides shopper's kids with large chaotic play areas in the cold half of the year.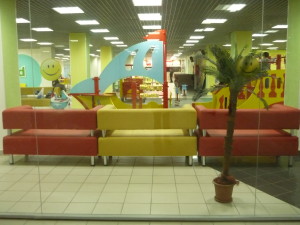 Smiland, Play Area in the Shopping Mall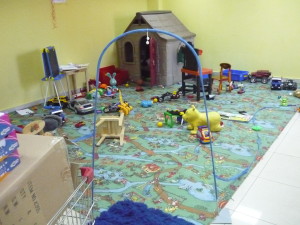 Play Corner in the Toy Shop, Ulyanovsk
I buy some toys – two realistic Neanderthalers (because I like didactic toys), and a knight riding a horse decorated with Hammer and Sikle. I rush back to the Hotel, where I'm picked up by Anna, who works for the governor – the person to watch my actions, I think at the beginning. However, she turns out to be my ally, as she is the lady with the connection to the governor, with an interest in art, in German films by Fassbinder, and in extending the strict academic frame of thinking in the art school and the city. Again the beautiful old Wolga limousine.
We pick up the elegant Elena, the translator, who works at the University. She's wearing a Gil Bret coat, a subtle combination of grey high tech materials and wool cloth. We look at the streets with beautiful old russian houses that survive the soviet union and capitalism because baby Lenin had lived in several of these. We have a look at Lenin memorial, at a sculpture of Lenin's father, at the splendid view over the Wolga, at the main shopping street of Ulyanovsk, and go to buy some materials for the workshop.
Although it is November, there is no snow, the temperature is spring like. We finish the first day with a meal in a cellar restaurant, where I have my first borscht soup. The owners of the restaurant switch the music from the usual russian pop to german electronically enhanced volksmusik, maybe an (unwanted) gesture of courtesy to my German language, maybe for exotic reasons. We roughly discuss my plans for the next day and the talk I am going to give. Anna turns out to be a person with loads of ideas, and very much in support of the idea of culture as a transformative power.
After the day I feel like I need to see the nightlife of Ulyanovsk. In the centre of the central shoppingmall there is an atrium cafe that plays very loud technomusic from a PC. Sushi and Italian coffee specialties are sold at relatively outrageous prices. I look around: at the table left of me a couple well into their fourties (maybe older) has a meeting or date. Most other people are younger than me. In front of me, a beautifully made up girl with an impressive long neck and straight black hair is working away on her computer. From time to time, shy looking boys come to say hello to her. She is clearly the most glamorous guest and the atrium café is her stage. As the shops around the central cafe close at 10, the cafe in the atrium gets crowded and more lively. The lights are dimmed down, the music turned up even louder. A different advantage of bringing a laptop to the cafe became now visible: the well made up girl's face now gets the most beautiful light from the screen on her fantastic white skin. She walks to the bar to place an order, checking the effect that the body under her tight pullover has on the other guests. Going back to her seat, she is wearing a big felt hat, that makes her small head look even more cute.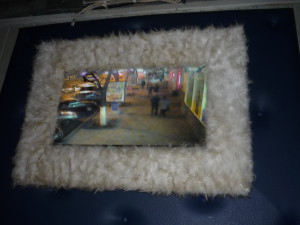 Fury TV transmitting images from Ulyanovsk High Street into a remote basement bar.
Generally the place is used as a stage, where russian women can effectfully peel themselves out of their coats and sport their new clothes. Somehow for me this sense of women celebrating life and dominating the public sphere was not at all what I had expected to find in Russia, in November, 1000 kilometers east of Moscow, but the joyful atmosphere becomes the starting point for my workshop program.
NOVEMBER 9 – Art as Platform:
The next day I meet Olga Tatosyan for the first time – and the students. I give a talk on art in public spaces and the viewer as the (co-)producer of artworks, starting with Constructivism and Productivism, starting with a quote of Varvara Stepanova, with El Lissitzkys demonstration room and Rodchenkos workers club, going to the idea of a wall painting working-as-a-machine by Mexican artist Alfaro Siqueiros, to the resonance that the Productivist / early soviet art had in the work of the Situationists, of Gordon Matta Clark, Alice Aycock and Dan Graham, and ending on examples of collaborative artistic practices from the last 10 years, like PTTLs collaboration between unemployed and artists in Bruxelles, the project Ecobox by Atelier d'Architecture Autogeree (AAA) from Paris, and the Park Fiction project in Hamburg, it's planning tools and the Documenta11 Installation (that strongly quotes Rodchenkos Workers Club).
All these examples, even the early soviet classics, are quite new to most students, whose training is, as I learned later, extremely academic. I also underestimate how young they actually are, dominantly between 17 and 18.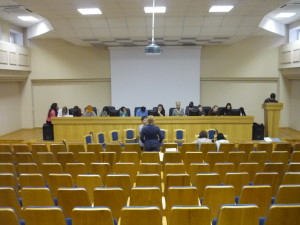 Workshop participants working, at Ulyanovsk University
Then we discuss what to do in the workshop. Some students are ready to develop an independent project. With others I want to develop a mixture from "reading" the city and think about potential interventions.
Everybody has as a homework the task to describe a place in the city, and already the next day some results are already extremely nice: Daria and Izmira, seventeen to eighteen year old students, have taken the chance to make an expedition into lesser known parts of the city and come back with a lovely description of their adventure at the periphery, with an unusual choice of photos of things they saw on the way, the shops and the grey market, the places specialised on youth culture outfits, combined with associations, subjective thoughts and a youthful playful attitude of having fun in the city.
Others have looked at a space where youngsters hang out, and develope an idea for seats to be adjusted there.
Some kids found the central square between Lenin Memorial and Hotel Venez suitable for which culture project ever, as it was central… Some participants did not like the idea of starting an expedition into everyday life, and wanted BIG ideas, Art with a big capital A. However, this course is a modest endeavor to find the North-West-Passage of imagination in the walls of the city of everyday life.
I develop a questionaire , a ten page interactive drawning book, a tool to decode the city, with very concrete tasks, combined with provocations – and, as I hope, questions that would trigger imagination.
NOVEMBER 10 – Decoding the City:
The questionaire is a hit. Kids and grownups use it as an excuse to have a little adventure in their own city, to decode the "Language of the City", to explore spaces they otherwise would have avoided. Everybody gets a tiny budget to spend in the cafés or restaurants, and off they go. As a provocation I tell them, that they are my spies into the everyday life of Ulyanovsk.
Is the place warm or cold, feminine or masculine?
Draw everything that you can reach with your hands.
Draw the customers outfits (male, female).
Draw all shoes you can see.
Do the waiters wear uniforms, if yes: do they alter them?
Draw an item, that symbollically represents the place.
What do you see? How does the space organise the views?
How does the place communicate with the street, the city?
To which outside does the place relate – why are people here?
Does the place work as a platform?
Is the place speaking about faraway, exotic places, about the past?
Which past, and how is this done?
Listen to what people talk about in the restaurant.
Write down a dialogue, as precisely as possible. (…)
NOVEMBER 11 – The Spy who loved the City:
Everybody brings back really nice reports. We spend the whole day, hours and hours, reading and presenting the results. Two Ladies, I think teachers at the art school or at school, who at the beginning had not much fun with the workshop, come back with a comparative report about the German Restaurant and brewery "Karl Marx Strasse" and a wild Usbekistan Restaurant. They even produce a video.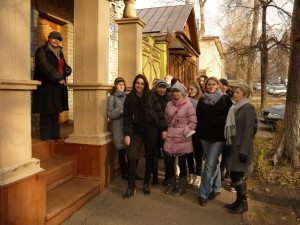 Workshop desperately seeking the white cube
Masha had loads of fun spying on other peoples dialogues, and brought back absurd dialogues picked up in a restaurant. Then we search for a wall for the final presentations. Not an easy task: I want a white wall, where we can work, stick stuff, put nails in etc. – we are offered fantastic Museum spaces with golden walls, vitrines and those horrible gallery-rails to hang up frames.
Finally we are promised a wall in the art school – and, after the very hard and long day, went out eating pizza together.
NOVEMBER 12 – Testing the cultural codes
We meet in the University and distribute / discuss the ideas, tasks and concepts for every participant. The idea is now to draw a multifaceted image of Ulyanovsk. MY idea is, that everybody would get one specific task – like: spying on dialogues, take fotos of everything red, take pictures of images of houses, take pictures of sculptures, of hands, write down the text of poosters etc. – to drive to two or three places as a group, to swarm out and come together after the job again and go to the next space. The students however all want to work individually. I have doubts about the quality of the upcoming results. My pessimism, however, would be disappointed…
I join Daria on her trip to an international suburban market, where fake brands are sold by people from all over the world – Vietnam, Kasachstan, Usbekistan.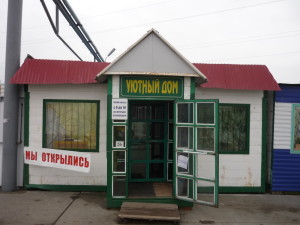 Vorort Marktstand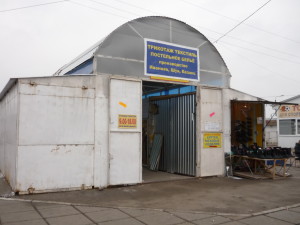 Markthalle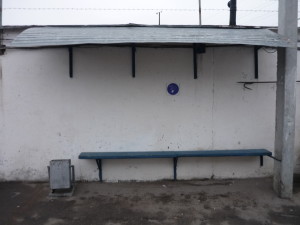 Raucherbank, Vorstadtmarkt, Ulyanowsk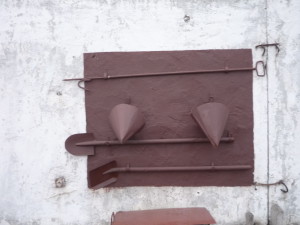 Suburbane Wandinstallation, Ulyanovsk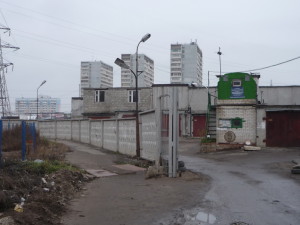 Der Fussweg vom Markt zu Mascha's Wohnung
NOVEMBER 13 – Building Tatlin from School Chairs
On the final day my plan is to definitely produce a – in which way ever – good looking installation of the products by the workshop. We look at everybody's designs and decide, what would be printed and in which size. Sounds easy, but took another few hours, and then we wait ages for the prints. We construct a kind of hanging that works like a diagram, like a "Proun-Raum", where different views of the city correspond with each other. When a TV team visits us, I give the two Alexeijs the job to construct a Tatlin tower from the schools chairs.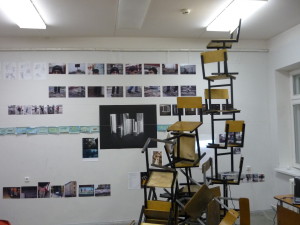 Tatlintower
A very young girl called Dasha has made beautiful little sculpture/city from staples and taken pictures of these – which we have enlarged to giant format as the central image. The two boys have made an interesting and ambitioned series of photos of the cities floor, feet testing the surface, and the accomopanying heads.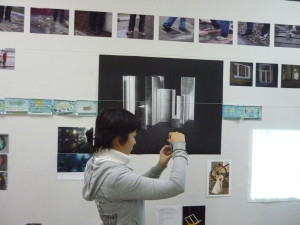 Daria has taken pictures of people in the streets in the suburbs – and in the city center, where everybody was willing to pose for her. Gala has shot a systematic series of construction fences, a series related to a work that combined digital thinking and remnants of industrial architectures. Varvara and Helena have made fantastic foto of light colors in grey or beige surroundings, as well as the broken images of traffic lights.
Sasha has made a beautiful and dark series of fotos of mirrors in the city – I pick two that grasp the feeling of work and pressure in the tram, and another one that mirrors the precarious place for young people to hang out in front of an office building in the city. Her friend Alexandra, who has given a fabulous talk the day before, has brought pictures of the somewhat official Ulyanovsk.
Dascha, eine sehr junge Workshopteilnehmerin, hat eine schöne kleine Skulptur / Stadt-Skyline aus Tackerminen gebastelt und diese fotografiert. Ein Bild drucken wir riesengroß aus, und hängen es ins Zentrum der Installation. Die beiden Jungs haben eine sehr interessante und ambitionierte Bilderserie der Bodenbeläge der Stadt gemacht, von Füßen, die das Territorium testen, und den dazugehörenden Köpfen. Daria hat Menschen in den Vororten von Uljanowsk und im Zentrum der Stadt, wo alle bereit waren, für sie zu posieren, fotografiert. Gala schoß Fotos von Bauzäunen aus Fertiggussbeton, eine Serie die sich auf eine andere ihrer Arbeiten bezieht, die digitales Denken mit den Überresten der industriell vorgefertigten Architekturen in Verbindung bringt. Warwara und Helena brachten eine ausufernde Serie sehr schicker Fotos von Farben in räulich-beiger Umebung mit, sowie Fotos von gestörten Straßenampeln.
Thanks to Goethe, Petra Reichensperger, Olga Tatosyan, Anna and Helena from Ulyanovsk, for this great experience.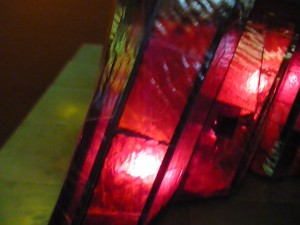 Red light in Lenin Memorial, Ulyanowsk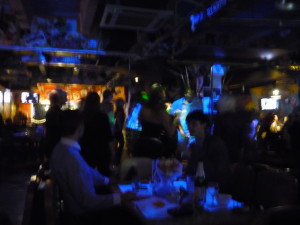 Blue light in a Disco in Ulyanovsk
Copyright Christoph Schäfer,