Christoph Schäfer lives in Hamburg. Since the early 1990s, the artist has worked on urban everyday life and the production of spaces for and by collective desires. This interest is mirrored in a wide range of work, that often reflects and sometimes intervenes, in unusual drawings, installations and collective projects. His main contributions include the independent urban-planning-as-art-and-activism project Park Fiction (1994-2005, documenta11 2002), the drawing series and book The City is Our Factory (2010), the drawing series Bostanorama (Istanbul Biennial 2013) and the co-founding of the transdisciplinary planning office PlanBude (since 2014), and together with Margit Czenki the programmatic development of temporary University Campus ContainerUni (2012), and the artistic planning project for the renewal of Schlosspark Leverkusen with Museum Morsbroich, Parklabyr (since 2021).
Since 2023 Christoph is Professor for Painting and Participative Strategies at the hks Ottersberg.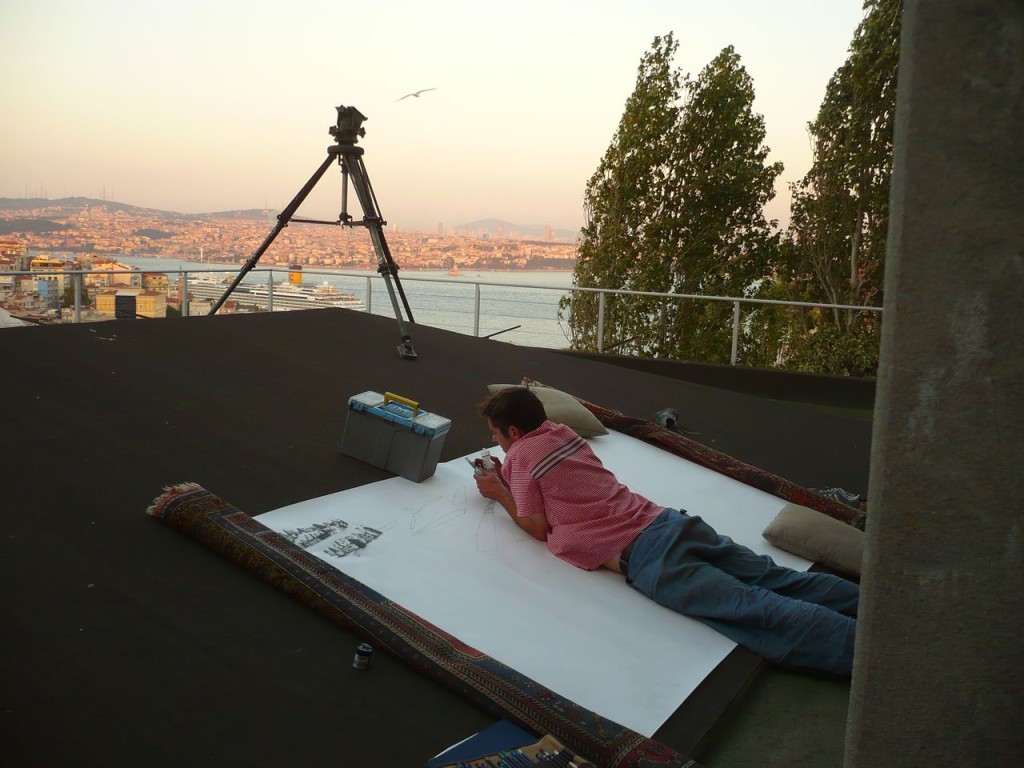 Main Contributions
2022 – parklabyr, Planungsprojekt, Museum Morsbroich, mit Margit Czenki
2017 – 2021 FABRIC – Brombach Dreaming, Kollektives Planungsprojekt
2013 Bostanorama, Istanbul Biennial 2013, Publication Spector Books 2014
2014 – Planbude – Knack den St. Pauli Code, Kollektive Wunschproduktion für die Esso-Häuser
2010 The City is our Factory Buch, Spector Books Leipzig
1994 – Park Fiction. Wunschproduktion und Planung, kollektives Projekt, documenta 11, 2002
Exhibitions (solo/duo/collectives)
2020 Post von Gestern, Urbane Künste Ruhr, Dortmund, Bochum, Essen, Duisburg
2017 Bostanorama, Kunstraum Lakeside, Klagenfurt
2015 Bostanorama, Ausstellung zur Vergabe des Edwin-Scharff-Preises, Hamburg
2014 Iftar in Yeniköy, Kunstverein Friedrichshafen
2012 Lamentation on the Destruction of Ur, kunstraum pro arte, Hallein
2008 Local Knowledge Institute, Zeppelin Universität, Friedrichshafen
2005 Revolution Non Stop, Goethe Institut Max Mueller Bhawan, Bangalore
2002 Revolution Non Stop, Liquidacion Total, Madrid
2000 Park Fiction (Gruppe), Parkhaus Berlin
1999 Park Fiction (Gruppe), wienerkunstverein, Wien
1995 No Hesitation No Repetition No Deviation (mit Cathy Skene), Kunstverein München 1994
Objektive Begierden der Epoche -Vorschläge zum Umgang mit Architekturen, (mit Cathy
Skene), Kunstverein in Hamburg
1993 0-100% (mit Cathy Skene), Friesenwall 120, Köln
1991 Arkadien (mit Cathy Skene), Thomas Backhaus Galerie, Düsseldorf
1990 Diorama, (mit Cathy Skene) Münzstr. 10, Hamburg
1989 Promised Land, Installation (mit Cathy Skene) Diskothek Unit, St. Pauli, Hamburg


Selected Group Exhibitions
2021 Hummings, KØS, Køge, kuratiert von Fulya Erdemici und Ulrikke Neergaard
2020 Out of the Dark II, KOW, Berlin
2019 Atlas of Commoning, kuratiert von arch+ und IFA, Miller ICA, Carnegie Mellon Uni, Pittsburgh
2019 STATISTA, Haus der Statistik, Zentrum für Kunst und Urbanistik und Kunst Werke , Berlin 2018
Atlas of Commoning, kuratiert von arch+ und IFA, Kunsthaus Kreuzberg /Bethanien, Berlin 2017
Socially Engaged Art, Arts Chiyoda, Tokyo
2016 Utopian Pulse, Wüttembergischer Kunstverein, Stuttgart, kuratiert Oliver Ressler &
2015 Cappadocia Struck, Cappadox, Uchisar
2014 Sleeping Producers, curated_by_Vienna, Charim Galerie, Kuratiert Matteo Lucchetti, Wien
2014 Utopian Pulse, kuratiert Oliver Ressler & Ines Dujak, Wiener Secession
2013 13. Istanbul Biennale, Mum, am I a barbarian? Kuratiert Fulya Erdemci, Istanbul
2013 Agoraphobia, kuratiert Fulya Erdemci, Tanas Berlin
2013 lines /Linien, kunsthaus dresden 2012 raumsichten – Topografie der Gemeinheit,Grafschaft Bentheim, kuratiert Dirck Möllmann
2011 KÜNSTLERISCHE KOMMUNIKATION UND INTERVENTION IM SOZIALEN RAUM. ROTOR Graz
2010 B1/A40 – Die Schönheit der Großen Straße, kuratiert von Markus Ambach, RUHR:2010
2009 Pudel Art Basel Hamburg
2009 Public Garden – Public Generation, Neuer Aachener Kunstverein 2009
2009 Public Turbulence /Disordine in pubblico Art ISOLA ART CENTER, Milano curated by Bert Theis
2008 Neue Künstlergeneration ›im Tal‹ Kunstverein Hasselbach
2008 parcours interdit, Künstlerverein Malkasten, Düsseldorf 2008
Participation Galerie Martin Janda, Wien
2008 Katastrophen, NGBK, Berlin
2007 Wilhelmsburger Freitag, Kunst im öffentlichen Raum, Hamburg
2007 Präsenzproduzenten, columbus art foundation, Ravensburg
2007 Walden, Kunsthaus Dresden
2007 Shrinking Cities, Museum of Contemporary Art Detroit
2006 Impossible India, Frankfurter Kunstverein
2006 Wild Capital – Wildes Kapital, Kunsthaus Dresden
2006 ForSale, Dresden
2005 Groundworks, Miller Gallery, Carnegie Mellon University, Pittsburgh
2005 World Information City Art Walk Bangalore
2005 Migrations Kölner Kunstverein
2005 Shrinking Cities 2, GFZK, Leipzig
2004 Ambulantes. Cultura Portátil. Centro Andaluz del Arte Contemporaneo, Sevilla
2004 Shrinking Cities 1,Kunstwerke Berlin, and Halle (2005)
2002 Site-seeing, Kunsthaus Wien
2002 Info-Offspring-Boogie-Woogie, Groupproject in Public Space, Dresden
2002 Documenta 11, Kassel
2002 "Positionen 1 – 4", Kunstwerke Berlin, curated by Anselm Franke 2002
Big Social Game – Biennale Torino, curated by Michelangelo Pistoletto 2002
Ökonomien der Zeit, curated by Hans-Christian Dany
Museum Ludwig, Cologne, Akademie der Künste, Berlin, Migros Museum, Zürich
2002 Gewalt ist der Rand aller Dinge, Generali Foundation, Vienna, curated by Andreas Siekmann
and Alice Creischer
2002 Der 3. Sektor, Galerie für Zeitgenössische Kunst, Leipzig, curated by Barbara Steiner / Doris Berger
2001 Televisions – Kunst sieht fern, Kunsthalle Wien, curated by Joshua Dector
2001 Der 3. Sektor, Kunstverein Wolfsburg, curated by Barbara Steiner and Doris Berger 2001 Park Fiction, Arte al Centro, Cittadellarte – Fondazione Pistoletto, Biella
2001 Republiche dell' Arte: Germania – la costruzione di un immagine, Palazzo delle Papesse, Siena
2000 Werkleitzbiennale, Werkleitz
2000 Aussendienst, art-in-public-space, Hamburg
2000 Hey International Competition Style, T.E.N.T., Rotterdam
1993 Oppositionen & Schwesterfelder, Wiener Secession, Vienna; Museum Fridericianum, Kassel
Curated by Christoph Schäfer
2022 Gefährliche Nachbarschaften
Das Park Fiction Komitee präsentiert eine Ausstellung, Talkshows und einen Umzug. August – November 2022 in öffentlichen Räumen Hamburgs zwischen Elbe und Arrivati Park.
"Wie verändert sich die Skulptur wenn ein Polizist daneben steht?" – Mit dieser Frage als Leitmotiv hat das Park Fiction Komitee 17 internationale Künstler*innen eingeladen, Arbeiten für den öffentlichen Raum Hamburgs zu entwickeln. Mit Ariane Andereggen, Nabila Malalai Attar, Simone Bergmann, Niels Boeing, Hans D. Christ, Alice Creischer, Margit Czenki, Pina Distelmeyer & Sidney Logan, Soyon Jung, Daniel Richter, Christoph Schäfer, Hinrich Schultze, Andreas Siekmann, Malte Struck, Prateek Vijan, Laura Ziegler
2020 Amor Vincit Omnia. LINDA BILDA -LENTOS MUSEUM für Gegenwartskunst, Linz
November 2020 -April 2021 – Christoph kuratiert die erste Retrospektive der 2019 überraschend jung
gestorbenen Wiener Künstlerin (mit Hemma Schmutz, Sektion Artfan / Artclub Ariane Müller). Zur Ausstellung erscheint ein Katalog mit Essays von Prof. Dr. Sabeth Buchmann, Prof. Stephan Dillemuth, Prof. Andreas Siekmann und Prof. Alice Creischer, Ariane Müller, Hemma Schmutz, Christoph Schäfer,
Hg. von Hemma Schmutz und Christoph Schäfer

2016 urbani7e! Housing the Many – Stadt der Vielen
Festival for urban explorations 23. September – 2. Oktober sponsored by Kulturbehörde Hamburg
curated for PlanBude with Margit Czenki and Renée Tribble in cooperation with dérive – Zeitschrift
für Stadtforschung (Wien)
with Zanny Begg (Sydney); Granby 4 Streets CLT (Liverpool); Initiative Haus der Statistik (Ber-lin);
ExRotaprint (Berlin); Marina Naprushkina /Neue Nachbarschaft /Moabit (Berlin); Grandhotel
Cosmopolis (Augsburg); Doris Kleilein (Berlin); Andrej Holm (Berlin); XYZ Open City (Hamburg);
Angelika Levi (Berlin); gaupenraub architects (Vienna); Michael Klein (Vienna); Booty Carrell, Cindy
Looper, L.C. Knabe, Astral Taxi (Hamburg); United People, Schwabinggrad Ballett & Arrivati (Ham-
burg) and many more supported and hosted by Gängeviertel, Hamburg supported by Curating the City, Hamburg

2014 Salon Public Happiness
Exhibition and Talks as part of Utopian Pulse curated by Oliver Ressler and Ines Doujak
with: Videoccupy, Istanbul; Megafonchor /Sylvi Kretzschmar; Esso-Häuser Film Team /Irene Bud-
de, Olaf Sobczak; PlanBude; Echohäuser; Die Goldenen Zitronen; Wiener Secession (2014); Würt-
tembergischer Kunstverein Stuttgart (2015)

2014 Platforms of Urban Imagination / Konferenz
curated with Margit Czenki ContainerUni /Zeppelin Universität Friedrichshafen
with: CAMP /Shaina Anand, Bangalore; Teddy Cruz /Fonna Forman, San Diego; Prof. Axel Kufus,
UdK Berlin, Design Reaktor Berlin; Markus Müller, Architect, Präsident Architektenkammer BW,Frie-
drichshafen; Iris Dressler, Director Württembergischer Kunstverein Stuttgart; sponsored by Zeppe-lin
Universitätsgesellschaft and Architektenkammer /Chamber of Architects, Baden-Württemberg

2006 Park Fiction – Umsonst und Draussen /Conference
with: Dr. Brigitte Franzen; Prof. Grant Kester, UCLA San Diego; Anne Querrien, Paris; Prof. Dr. Nina
Möntmann; Wanda Wieczorek; sponsored and commissioned by Kulturbehörde Hamburg

2003 Unlikely Encounters in Urban Space
Exhibition and Conference and Tour: Park Fiction Hamburg, Kunsthaus Dresden, Volksbühne Berlin
curated with Margit Czenki, Christiane Mennicke
with: Ala Plastica, La Plata; Maclovio Rojas und borderhack, Tijuana; Sarai, Raqs Media Collective,
Cybermohalla, Delhi; Galerie für Landschaftskunst, Hamburg; LIGNA, Hamburg; Isola Art Center,
Bert Theis, Milano; Schwabinggrad Ballett sponsored by Kulturstiftung des Bundes