Christoph Schäfer lives in Hamburg. Since the early 1990s, the artist has worked on urban everyday life and the production of spaces for and by collective desires. This interest is mirrored in a wide range of work, that often reflects and sometimes intervenes, in unusual drawings, installations and collective projects. His main contributions include the independent urban-planning-as-art-and-activism project Park Fiction (1994-2005, documenta11 2002), the drawing series and book The City is Our Factory (2010), the programmatic development of temporary University Campus ContainerUni (2012), the drawing series Bostanorama (Istanbul Biennial 2013) and the co-founding of the transdisciplinary planning office PlanBude (since 2014).
Christoph is decisively involved in Park Fiction, the community based planning project for a park at St. Pauli's harbour wall, started in 1994. Based on a 'collective production of desires' in the neighbourhood, Christoph developed tools, that make planning accessible for the local knowledge. As a member of the group Park Fiction, he is interested in the exchange between different subjectivities and the collective redefinition of public space. With a multitude of events and activities involving inhabitants with different cultural backgrounds, Park Fiction turned urban planning routine from it's head to it's feet – and finally succeeded and realized the public park instead of a corporate block. Pioneering an imaginative and conceptual approach in participation, Park Fiction was part of documenta 11 in 2002.
Christoph grew up in the industrial town of Essen. He developed an interest in the philosophy of aesthetics and politics in his teens, experimenting with photography, short lived bands, self-organized theatre groups and painting. After school and civil service he moved to post-punk and post-squatters-movement West-Berlin, and a year later to Hamburg, where he studied art with painter Bernd Koberling, with conceptual artist Franz Erhard Walther. and with guest professor Joseph Kosuth. His work took a serious shift when he started to work with fellow art student Cathy Skene and when the two met HfbK guest professor Dan Graham in the late 80ies. Graham encouraged him to further develop his interest in the urban field, in skateboarding, in the evolving Acid-House scene, in the history of arts and gardens, and in developing theory as part of the artistic practice. First steps into the urban fabric followed, with Promised Land – Das Versprechen der Stadt, an installation that created a hedonistic surveillance situation in a Separée and a former lust-bath, rooms hidden in an emerging Tekkno-Club in St. Pauli's former red light district. Graham also influenced – and followed – the first steps of Park Fiction, and contributed to the first exhibition Christoph curated in the shop windows and private flats surrounding the wished-for park, Park Fiction 4 – desires will leave the house and take to the streets, in 1996. Filmmaker Margit Czenki shot a movie about the project in 1999 under the same title – and many projects with Margit followed since then.
In 2000, Christoph shot his first film, Revolution Non Stop. Starring Schorsch Kamerun, Melissa Logan, Sabeth Buchmann, Nikola Duric, Songül Bulut, Angela Richter and Maja Baske, the movie transformed parts of Hamburg's inner city into a "game with the residues of the surplus production in the future ruins of Fordism". Screened in the cinema, where the films story begins and ends, the film consciously uses the 16MM film technology and non-stop-format of the 70ies, and exclusively plays in slightly old fashioned buildings and in streets in danger of disappearing, thus aiming to bring back the repressed promises of the recent past embedded into these locations and their designs.
When Park Fiction was under way to be realized, Christoph saw a necessity not only in the work on the ground, but also in networking and connecting with artistic practitioners and urban thinkers worldwide. In 2003 he went to Delhi, to find out how the Cybermohalla Labs organized their work in the irregular cities. Founded by Raqs members Shuddhabrate Sengupta, Monica Narula and driven forward by Jeebesh Bagchi, Cybermohalla is still an unreached benchmark concerning depth and quality that can be achieved in co-creative processes that reach out to the imaginations of the everydaylife.
Back in Hamburg, Christoph and Margit Czenki curated an international conference, Park Fiction presents: Unlikely Encounters in Urban Space. Bringing together emerging groups like Ala Plastica (La Plata), the Isola Art Center/Bert Theis (Milano), the Cybermohalla Project (Delhi), the organizers of Maclovio Rojas Settlement (Tijuana), LIGNA and Schwabinggrad Ballett (Hamburg) with thinkers and artists like Ute Meta Bauer, Stephan Dillemuth, Jochen Becker and Sabeth Buchmann, the congress assembled a new terminology beyond participation: local knowledge – global exchange, constituent practices, art as platform of co-production, practices that make unlikely encounters more likely. Filmmaker Peter Ott shot a 134 minute documentary about this pioneering conference.
His video and drawing installation Melrose Place_d in Bangalore investigates the influence of new media on urban processes and imaginations in the Indian software metropolis (2004). Hoang's Bistro (2005) deals with Asian shadow cities in Leipzig as pioneers and space makers in an otherwise shrinking city. In 2009, Abbellimento Strategico was produced for the Isola Art Center, Milano, a painting about art and ecology as camouflage for investor's architectures in general – and Stefano Boeri's Bosco Verticale in particular. In the context of the European Cultural Capital RUHR.2010, he marked places of the Ruhr Uprising in 1920 with the means of city marketing: Auslaufendes Rot – Anti-Monument fuer die Rote Ruhr Armee.
Christoph's work bridges and connects musical subcultures, (urban) theory, social movements and urban planning, and he is an active contributor to the Hamburg Right to the City Movement. In 2010, his first book The City is our Factory / Die Stadt ist unsere Fabrik was published by Spector Books. telling the history of the city from prehistoric times to the emergence of the right to the city movement in Hamburg. Summing up and developing further the ideas of Henri Lefebvre, Christoph pioneered the thesis, that cities are becoming the new factories in the sense of centres of the production of surplus – and thus, the centres of a spatialized resistance and reinvention of the city as a place of exchange, production and self-organisation.
His three piece public work Topografie der Gemeinheit is a permanent installation in a forest and a barn near Bad Bentheim, connecting a historic event concerning a militant 16th century anabaptist with one of the last remaining common forest – and a mystic oak tree, burned down in the late 19th century, but still worshipped by the commoners. For the piece, a local choir reconstructed and recorded a lost revolutionary song from 1533/34 by anabaptist Anne Jansz, written a few years before the events in Bad Bentheim, in nearby Netherlands.
As artistic co-director, he designed Container Uni, constructing a temporary campus for Zeppelin University Friedrichshafen from 180 Containers together with Margit Czenki and architects quartier vier. For the Istanbul Biennial 2013, Schäfer produced "Bostanorama" a series of large scale drawings that trace the political history of Istanbul through it's gardens, parks and stadiums. A text from his blog, "Going Public – Istanbul Cookbook", based on Schäfer's conversations in the streets of the post-occupygezi Istanbul, gives a short glimps into his methodology of developing ideas, thoughts and (political) imaginations out of the local knowledge and the every day life. The text is the basis for his Bostanorama publication (2015).
Christoph is a founder and part of the team of PlanBude, that currently organizes the participation and the planning process for the new ESSO-Houses in St. Pauli. Taking the practices developed in the Park Fiction process to the next level, PlanBude successfully managed to give the development plan of the 28.000 square meter building a totally different direction – directly at Hamburgs most famous street, the Reeperbahn. The project might have serious consequences on the course of planning culture – far beyond the Hamburg context.
Together with PlanBude colleagues Margit Czenki and Renée Tribble and dérive – Magazine for Urban explorations, Christoph curated and organized the 2016 edition of urbanize! – Housing the Many – Stadt der Vielen in Hamburg and Vienna – dealing with answers to the housing crisis and how the ability to co-create with the many, so impressively demonstrated in recent art-led urban projects, can be scaled up to the level of urban development and strategic planning.
You can contact Christoph via email: asabiya@gmx.de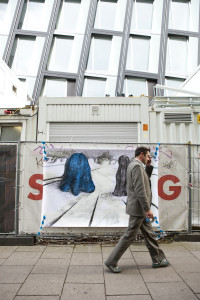 Foto with construction fence, drawing and construction site (c) Frank Egel 2012, Foto with Christoph and Matteo Lucchetti dreaming during sleeping producers at Charim Galerie. (c) curated_by_vienna 2014

---
Major Projects (solo / teams / collectives)

FABRIC – Planung als Plattform
After a conceptual and testing phase in 2017, FABRIC organizes the planning process for 13.500 square meters of land at the Brombach-Hauingen train station in Lörrach near Basel.
The land is owned by the Schöpflin Stiftung, who has commissioned the art- and planning process.
FABRIC develops the methods from the Park Fiction, PlanBude and ContainerUni processes further.

PlanBude
2014 (ongoing, co-founder and co-artist) PlanBude – a transdisciplinary office, organizing the planning and participation for a 28.000 square meters ensemble of houses in place of the former Esso-Houses on Reeperbahn, St. Pauli, Hamburg. The PlanBude idea kicked off in an independent citizen's assembly in the Ballroom of FC St. Pauli. The team of six combines planners, artists, architects, cultural scientists, DJs and community workers and now works commissioned by the planning authority. In a unique planning process, PlanBude opened it's doors right at the construction site in the heart of St. Pauli, offered innovative tools that allow complex contributions by everybody, collected 2.300 wishes and designs, in an open brief process. Eventually, politics, planning authorities, and the private owners agreed to accept the PlanBude-developed "St. Pauli Code" from the neighbourhood as a briefing for the architectural competition. PlanBude now works on the realisation of the "St. Pauli Code" with the winning teams of NL-architects (Amsterdam), BeL (Cologne), IFAU/Jesko Fezer (Berlin), Lacaton & Vassal (Paris) and feld72 (Vienna).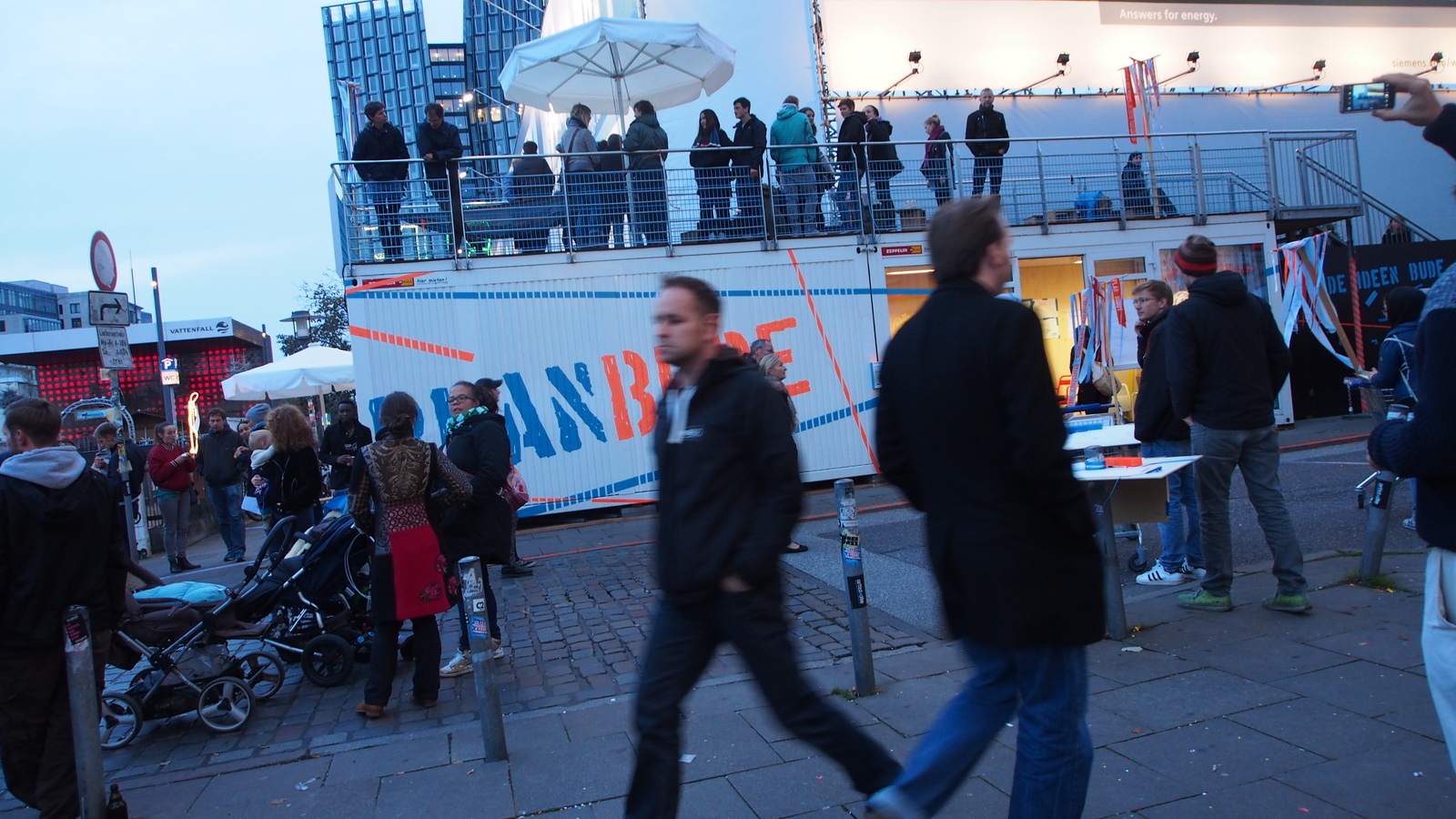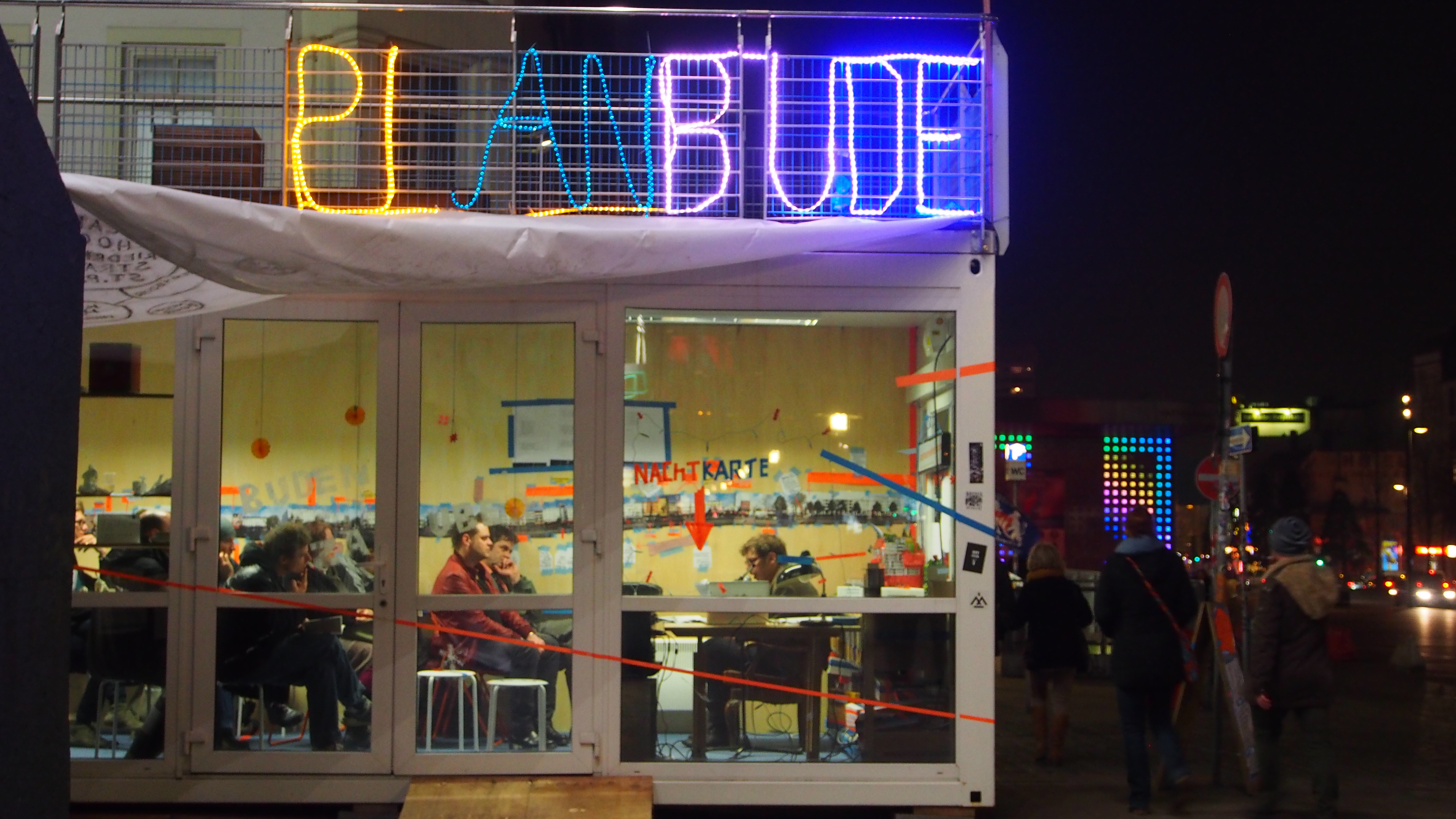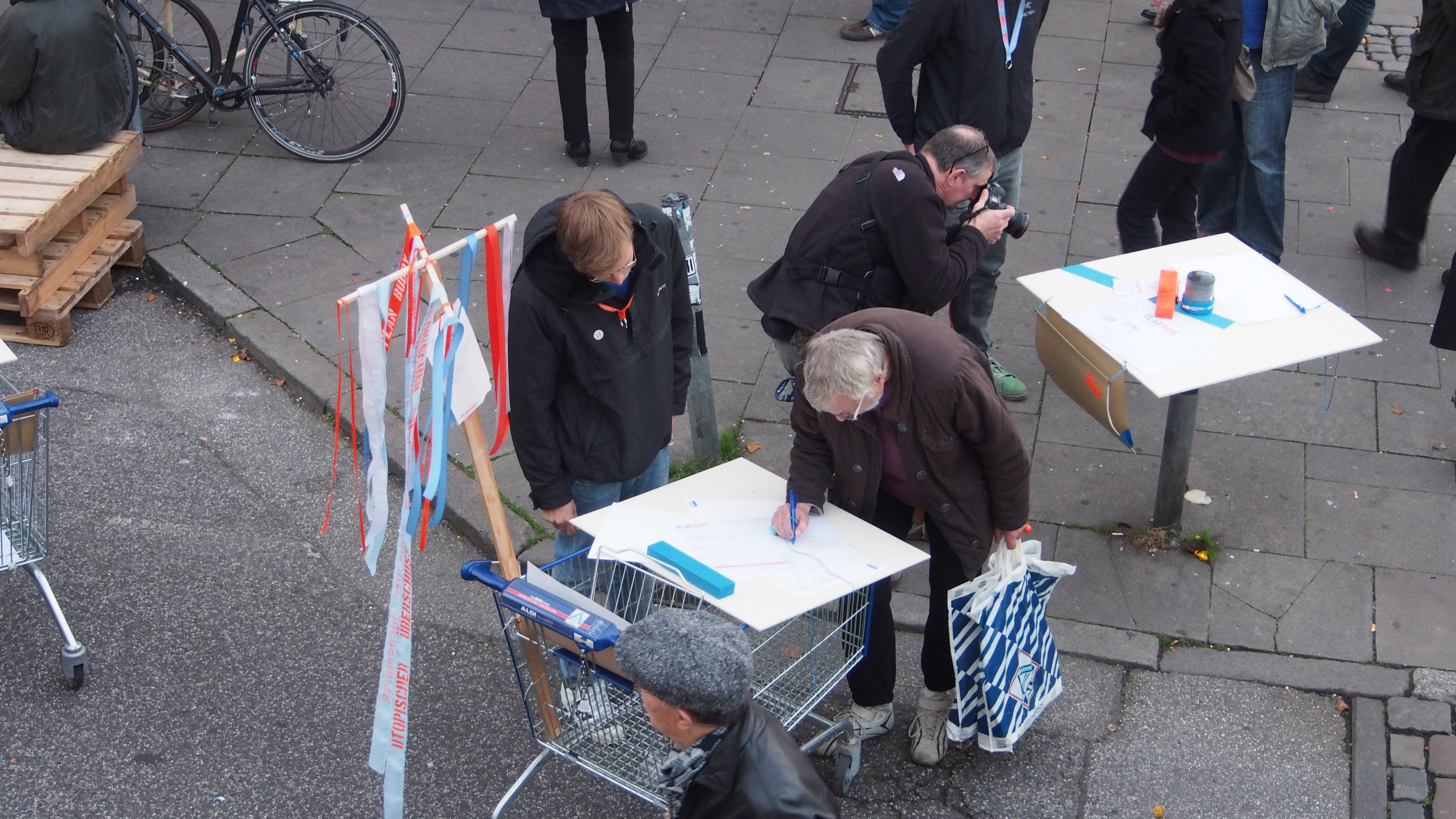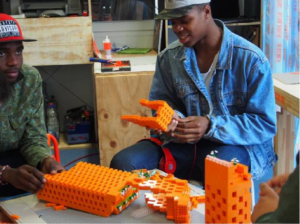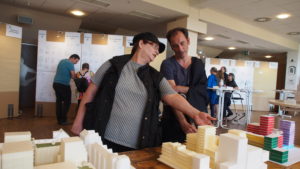 Park Fiction
1994 (ongoing, co-founder, artist) Park Fiction – a public art and community project to design a park in an open process. Even though the government already had fixed plans to sell the land to private investors, we started a parrallell planning process and a collective production of desires with artistic tools. The park was finally approved of and developed by us with the playful and innovative methods, Park Fiction invented. Today one of the most popular places in Hamburg, with a view on to the harbour. The project was exhibited in documenta11 in 2002.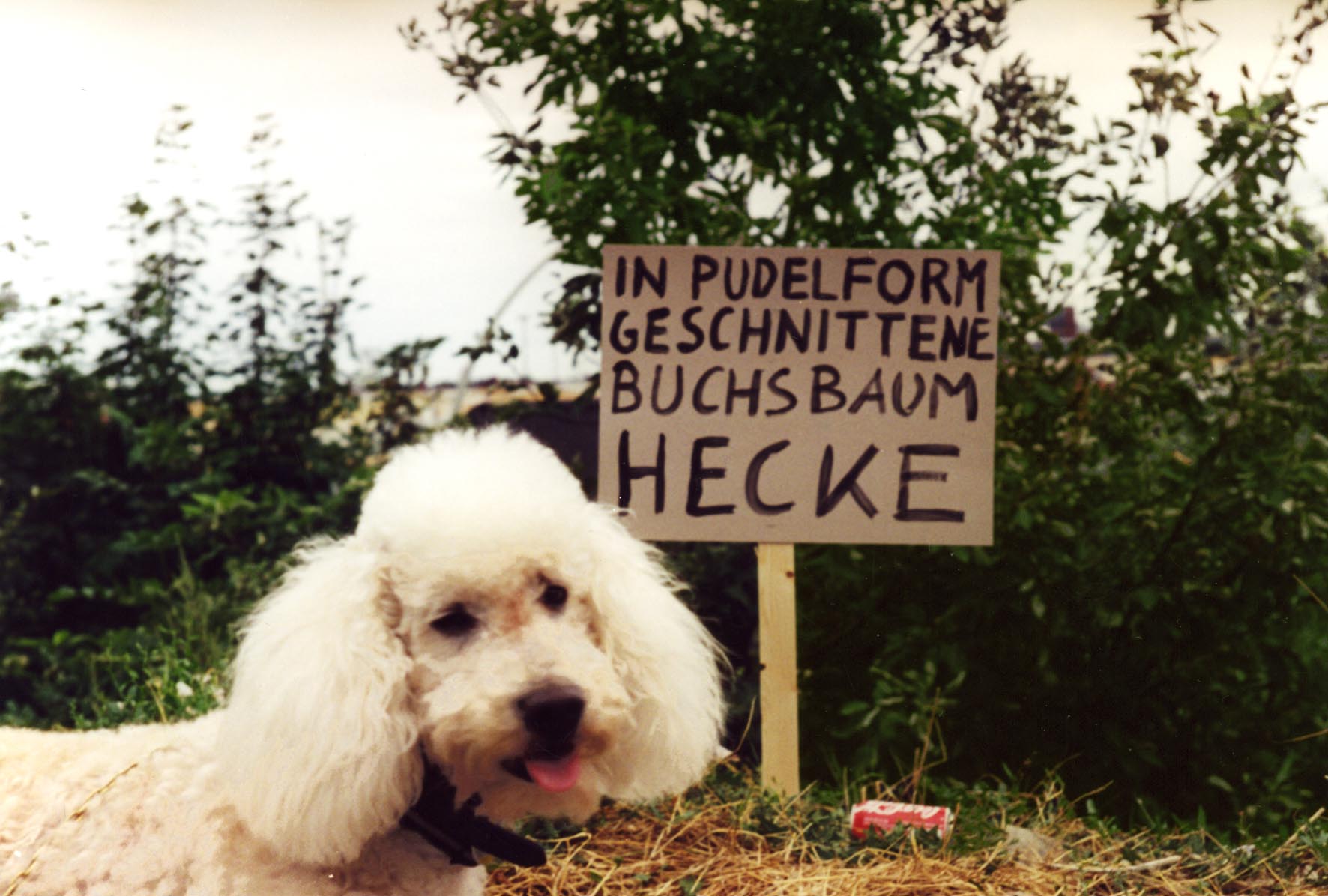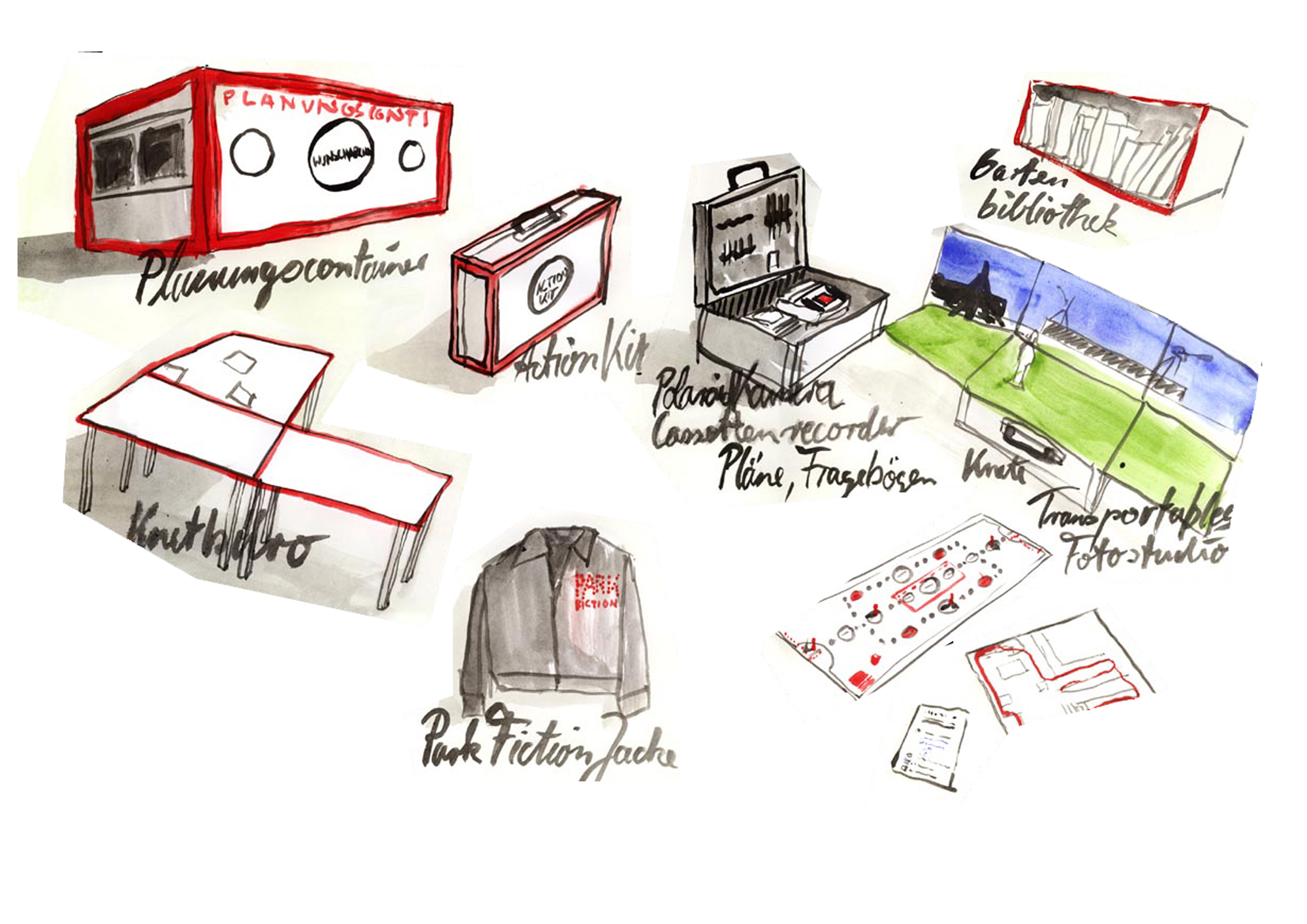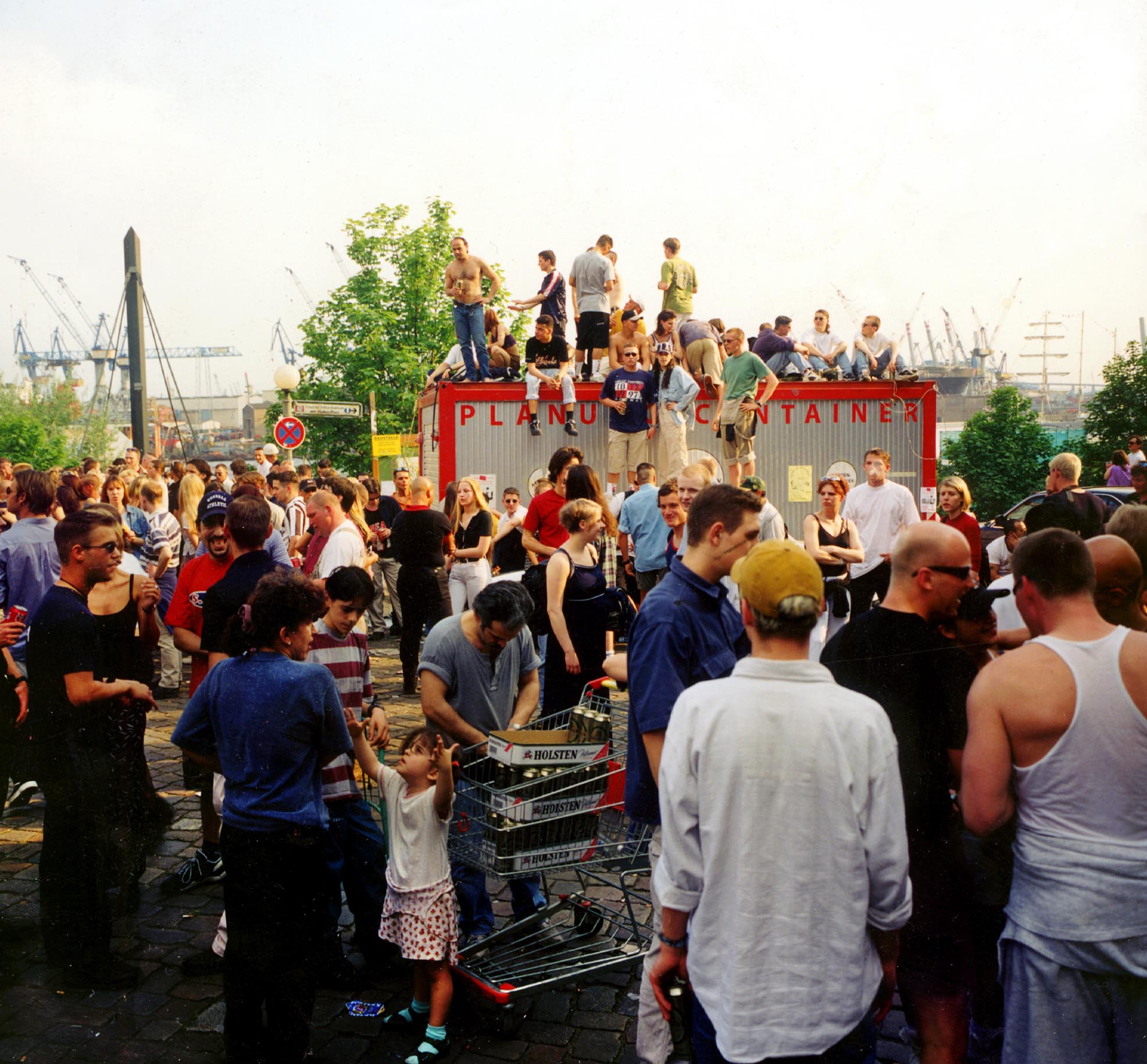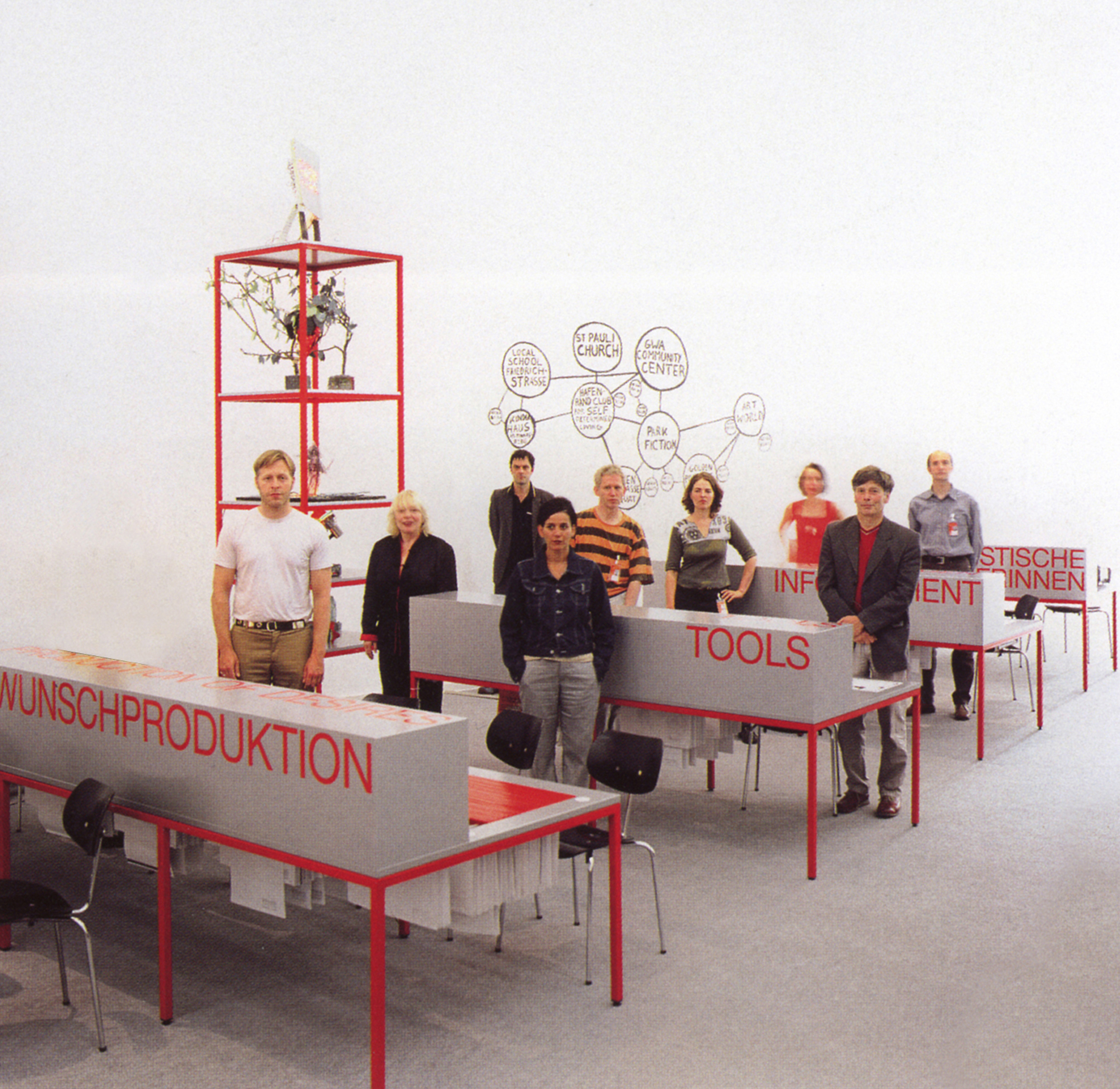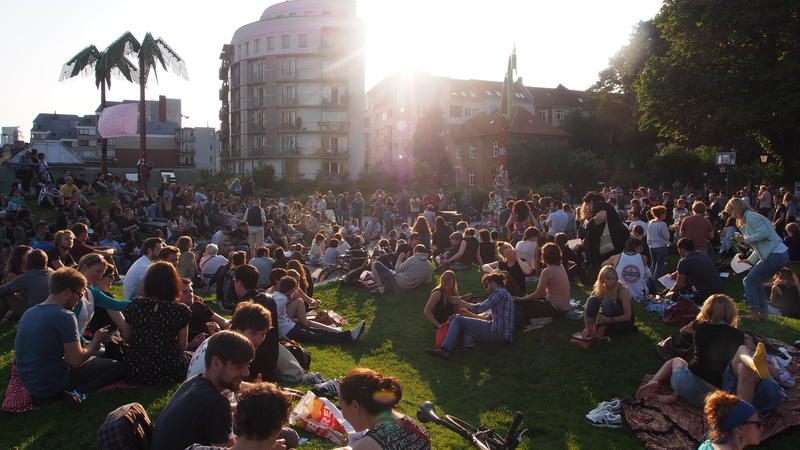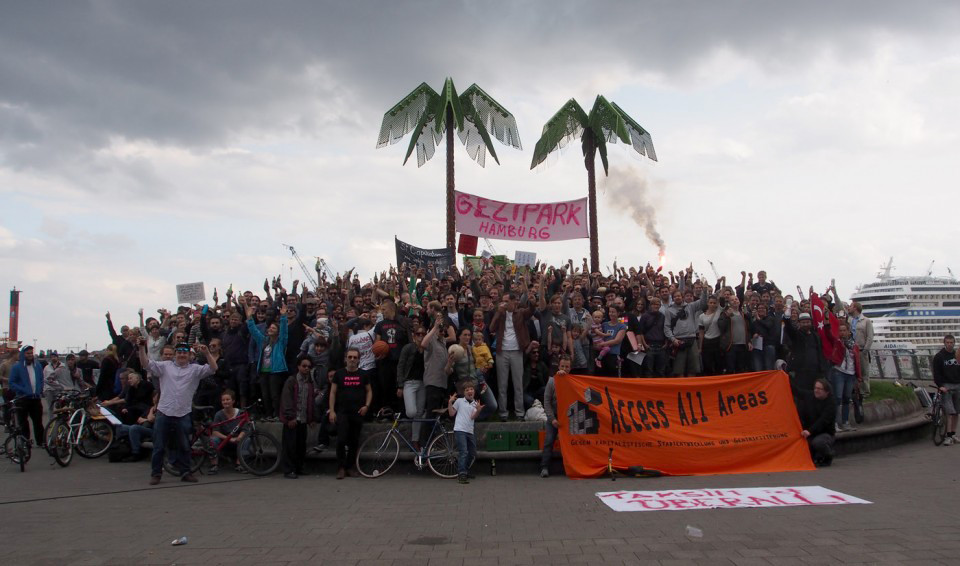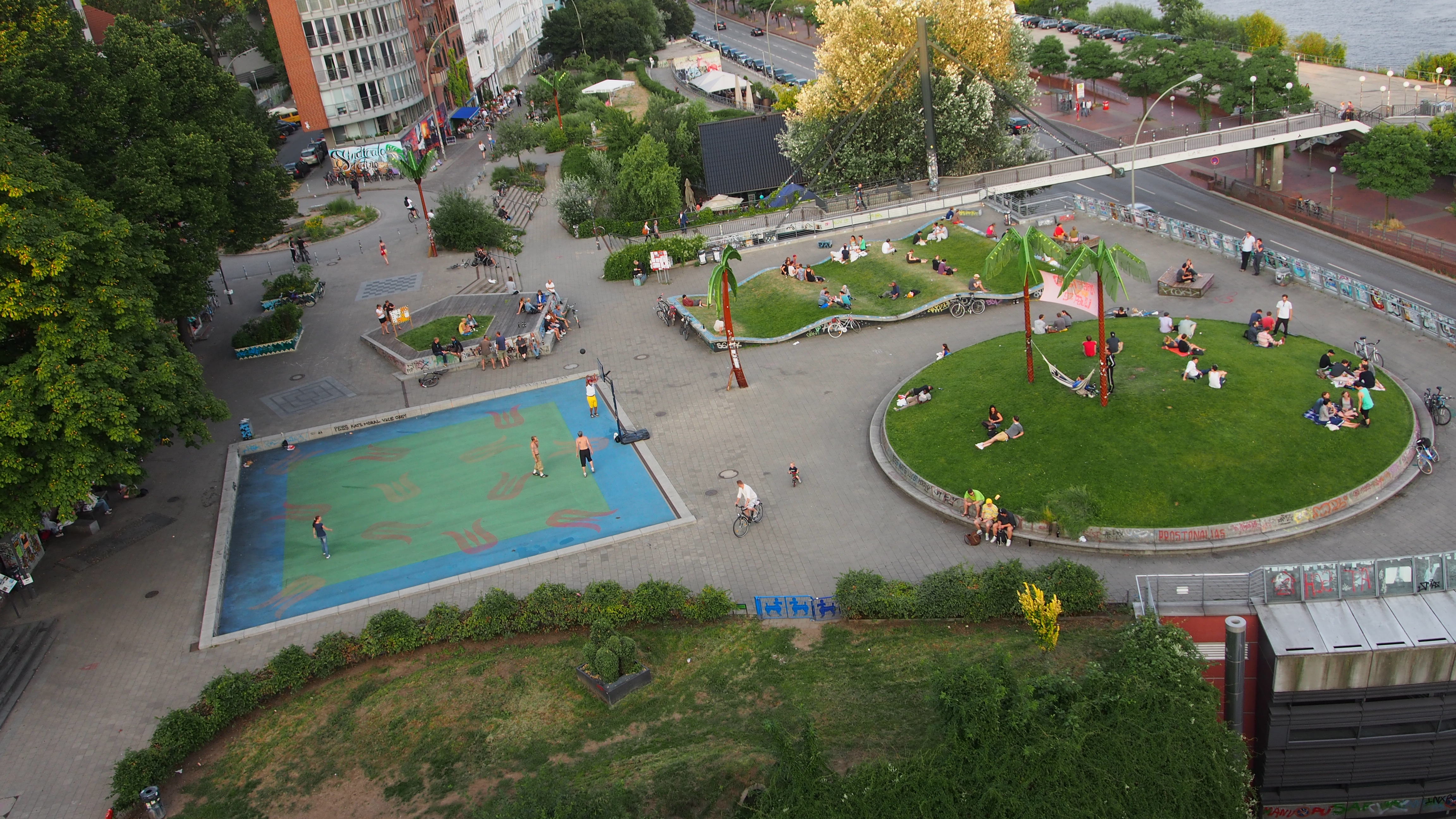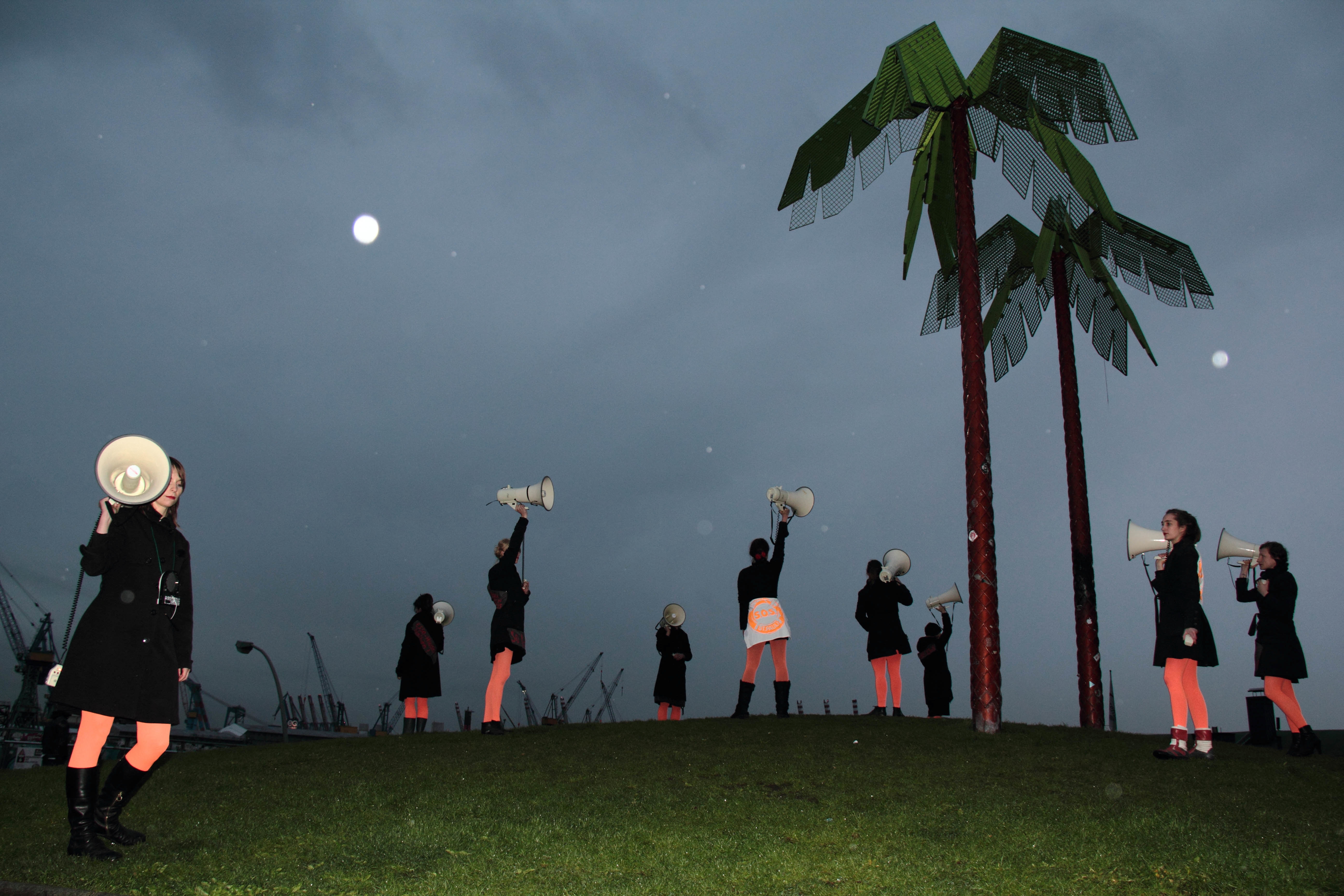 ContainerUni
2011 ContainerUni, a temporary campus for Zeppelin University. Built from 180 standard containers and a fast assembly hall, the project was created by Christoph Schäfer and Margit Czenki in cooperation with quartiervier architects. Parts of the 80 office spaces and all of the 16 Seminar rooms were appropriated by employees and students. The target: To create difference in a modular standardised system of construction, was realised in a pioneering fashion: With an "Open Test House" for students only ("The Hausordnung does not apply"), with the Moon-House including a retro-futuristic "Moon-Container" (upholstered, with science fiction books hidden in the padding's joints, and upholstery buttons acting as switches to play "sounds from the future"); with a 1:1 replica of George Bernhard Shaw's rotating Writing Shed on a terrace in 3rd floor – thematic "inserts", which, like follys in romantic gardens, fall out of the functional logic of the university and act as a theme-giving device to each of the houses. With a time for preparation, commission, participation, planning and construction of only 8 months, the ContainerUni prooves, that intensive participation and the production of spatial quality is possible also under time pressure.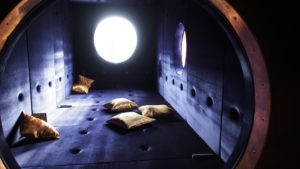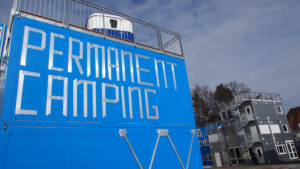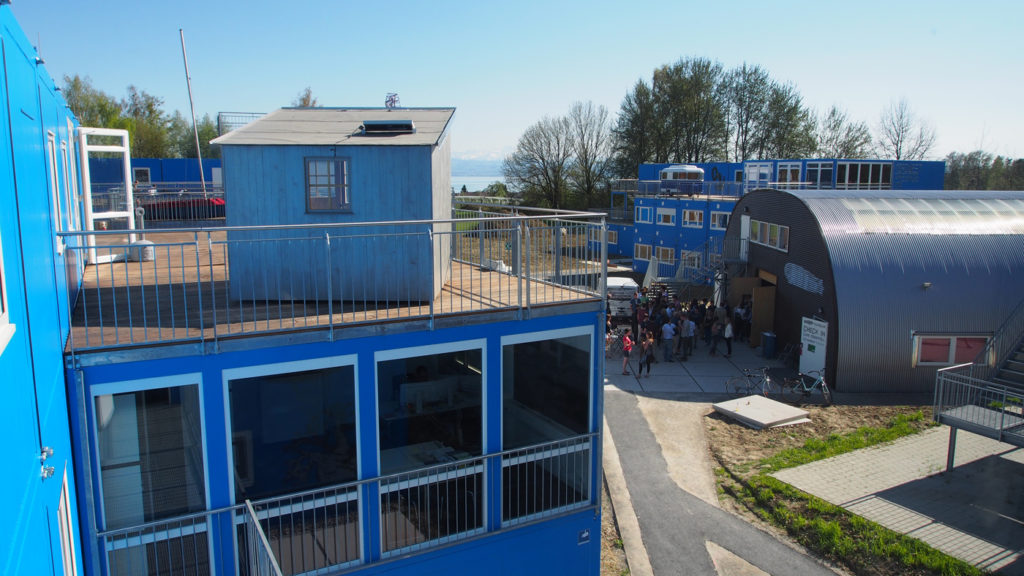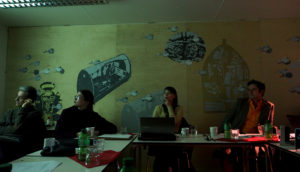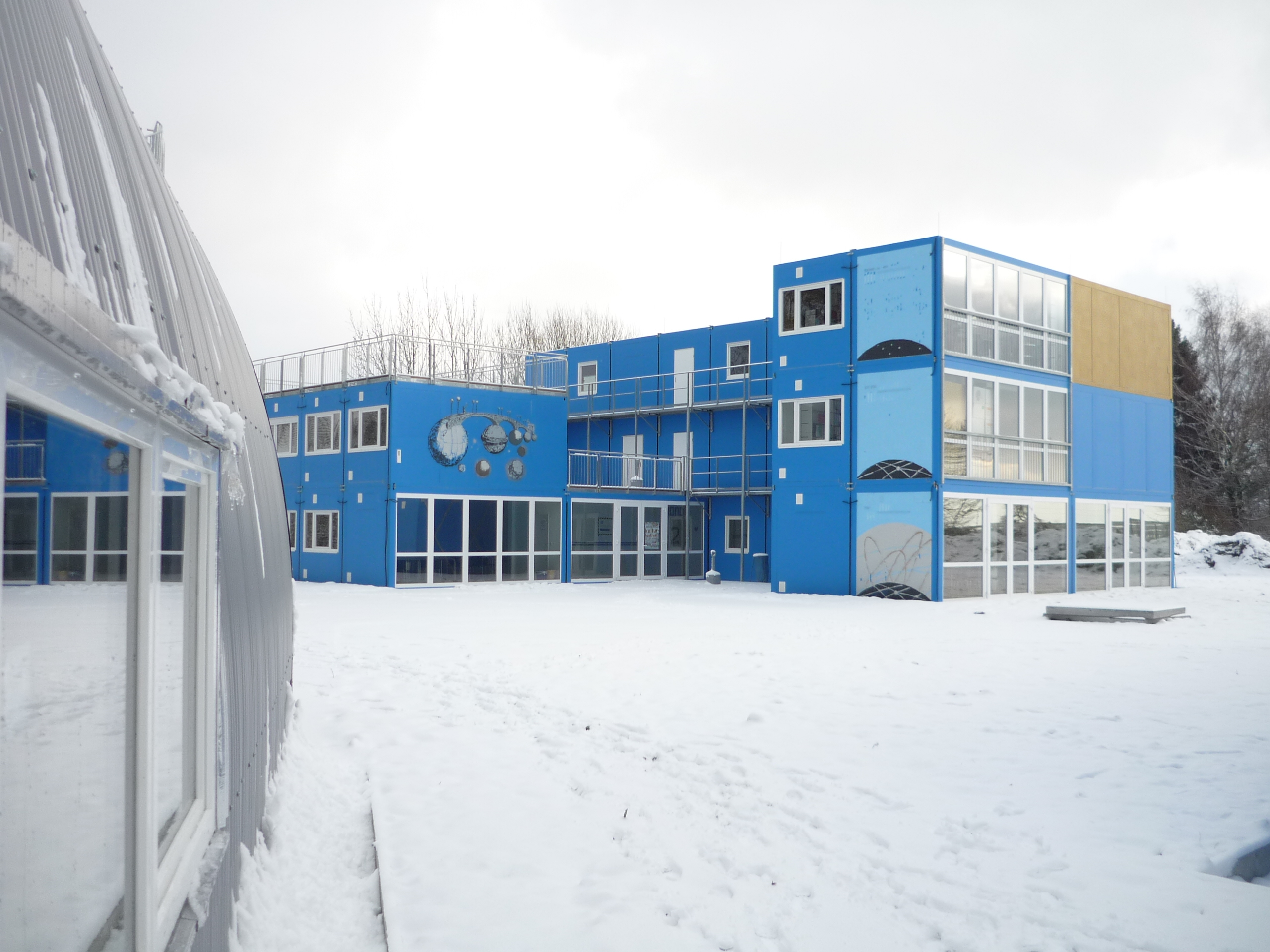 The City is Our Factory
2010 The City is our Factory – a groundbreaking book (or is it a sketch-pad) pioneering the thesis, that today, the city has become our factory. "In 165 drawings, the artist Christoph Schäfer develops a rhizomatic history of the urban space: From primordial mud to the "Right to the City" movement in Hamburg in 2009. With water ink pencils he retraces Henri Lefebvre's concepts of space, the "Urban Revolution" anticipated by the French philosopher in the 1970s. In his theory, in the postindustrial age the city itself is turned into the central locus of production. In a society in which a differentiation between passion and work, privacy and professionalism is becoming increasingly difficult, the struggle for the city turns into a struggle for the means of production — a new struggle for the Right to the City."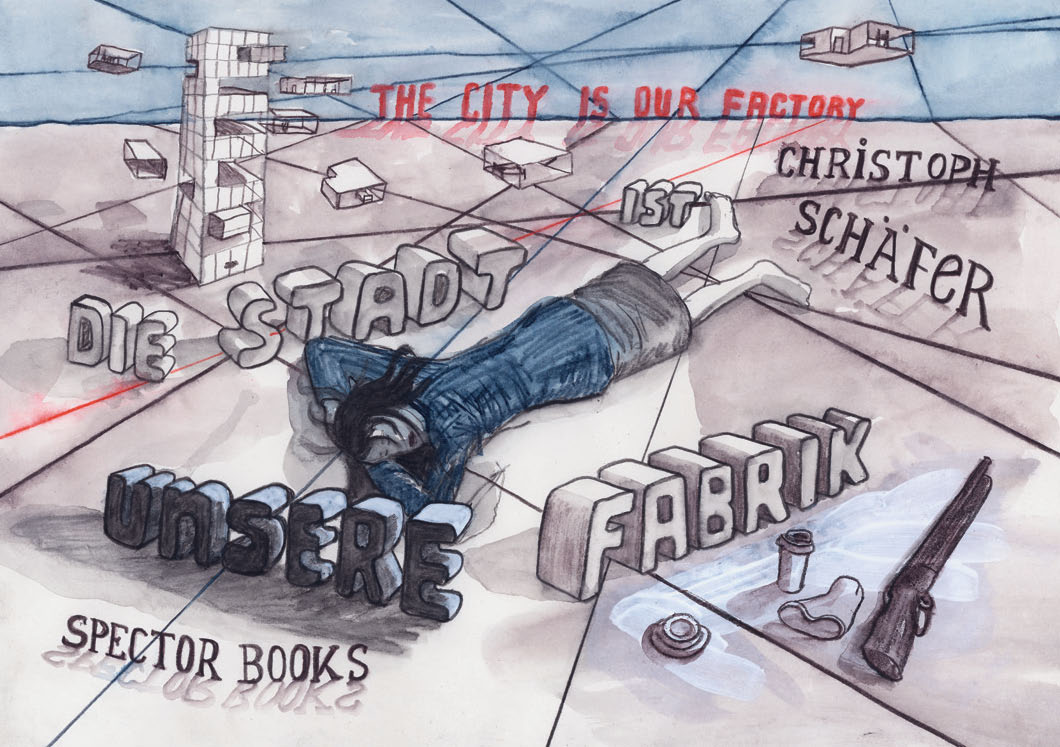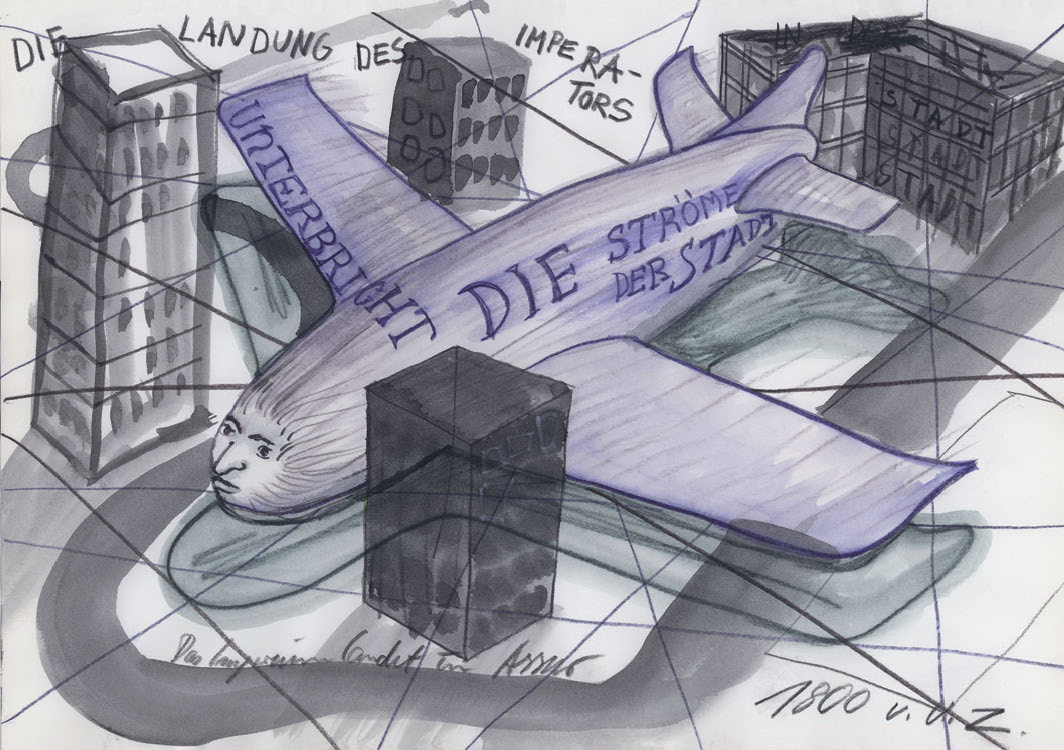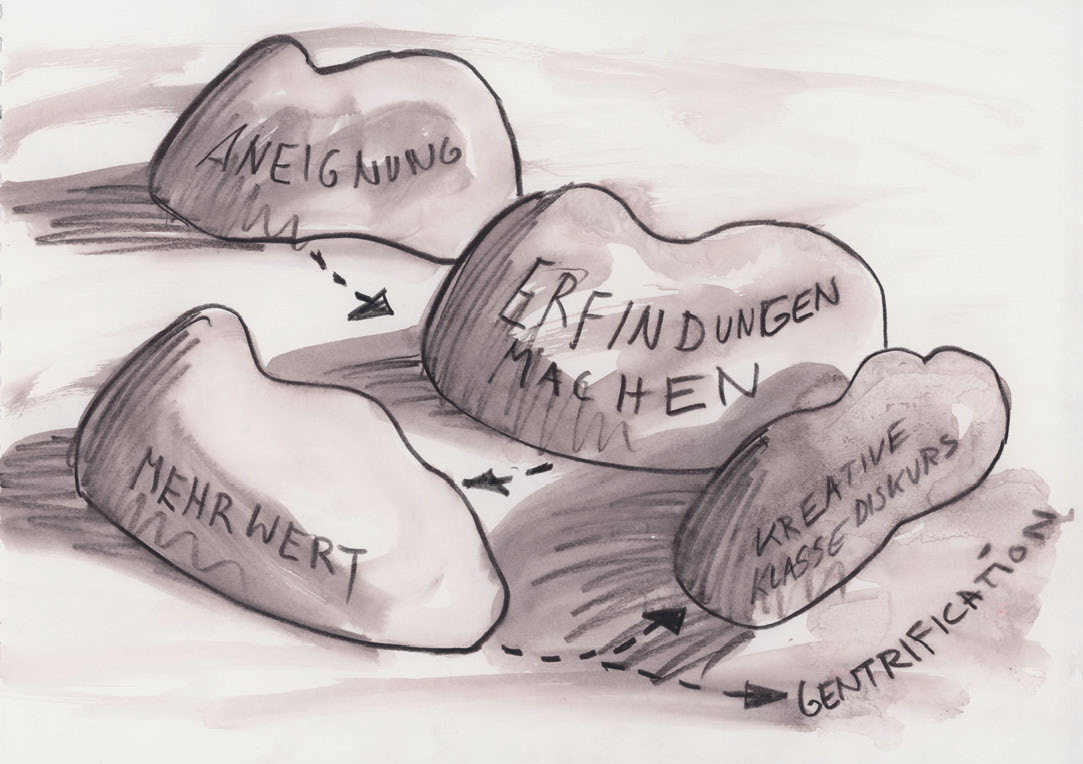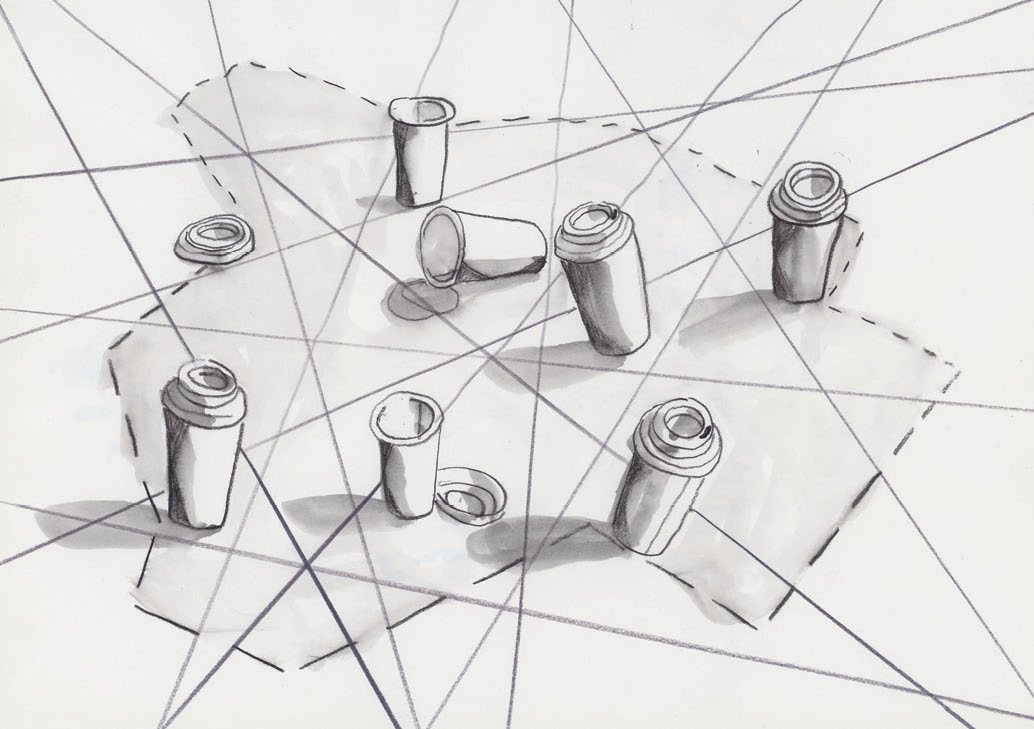 Bostanorama
Produced for the 13th Istanbul Biennial, Bostanorama is a series of drawings that the artist produced in Istanbul, shortly before – and after occupygezi in 2013. The drawings tell a political history of Istanbul through it's parks, gardens (bostan) and squares. One of the most tweeted works of the biennial, the exhibition became a place where people looked intensely and discussed in front of the drawings. The drawings became one of the most tweeted works of the biennial and have also been published as a newspaper in 2014.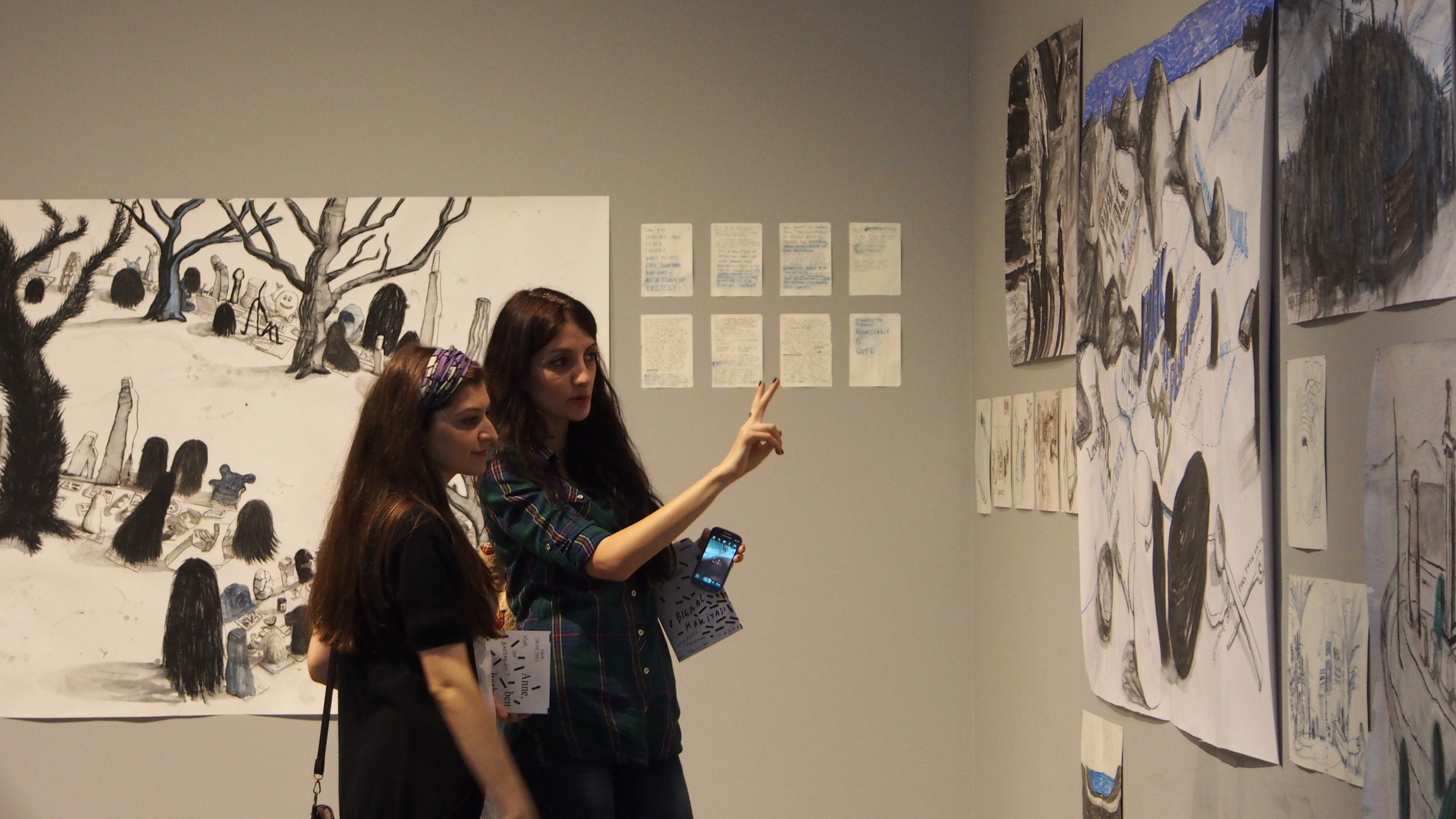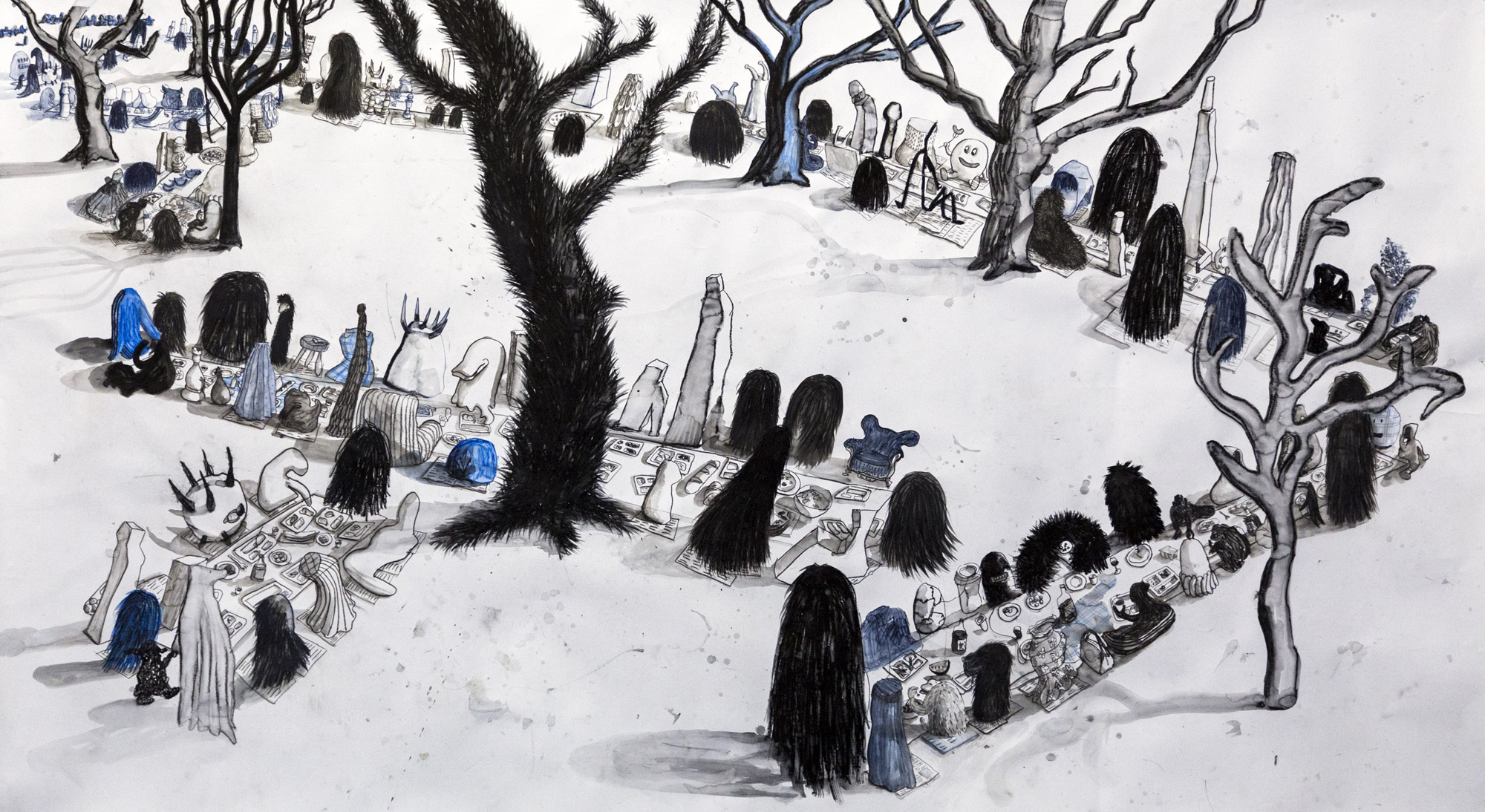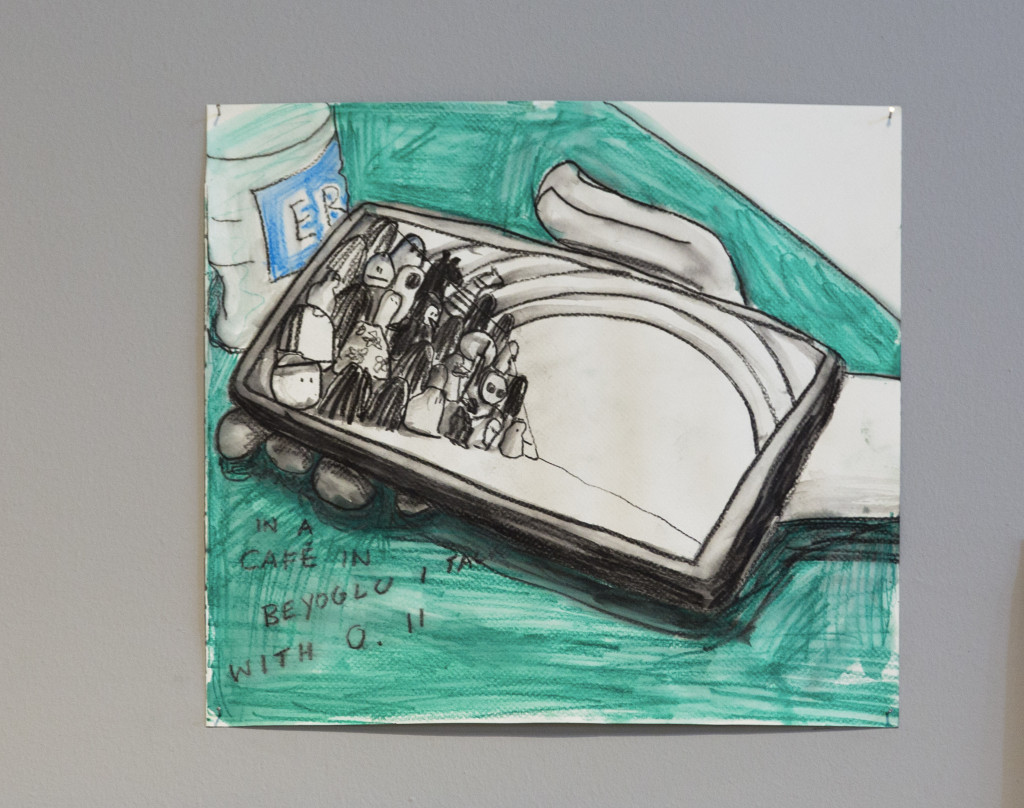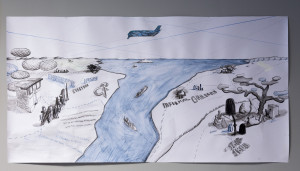 ---
---
Exhibitions (solo/duo/collectives)
2015 Bostanorama, Ausstellung zur Vergabe des Edwin-Scharff-Preises, Hamburg
2014 Iftar in Yeniköy, Kunstverein Friedrichshafen
2012 Lamentation on the Destruction of Ur, kunstraum pro arte, Hallein
2008 Local Knowledge Institute, Zeppelin Universität, Friedrichshafen
2005 Revolution Non Stop, Goethe Institut Max Mueller Bhawan, Bangalore
2002 Revolution Non Stop, Liquidacion Total, Madrid
2000 Park Fiction (Gruppe), Parkhaus Berlin
1999 Park Fiction (Gruppe), wienerkunstverein, Wien
1995 No Hesitation No Repetition No Deviation (mit Cathy Skene), Kunstverein München
1994 Vorschläge zum Umgang mit Architekturen (mit Cathy Skene), Kunstverein in Hamburg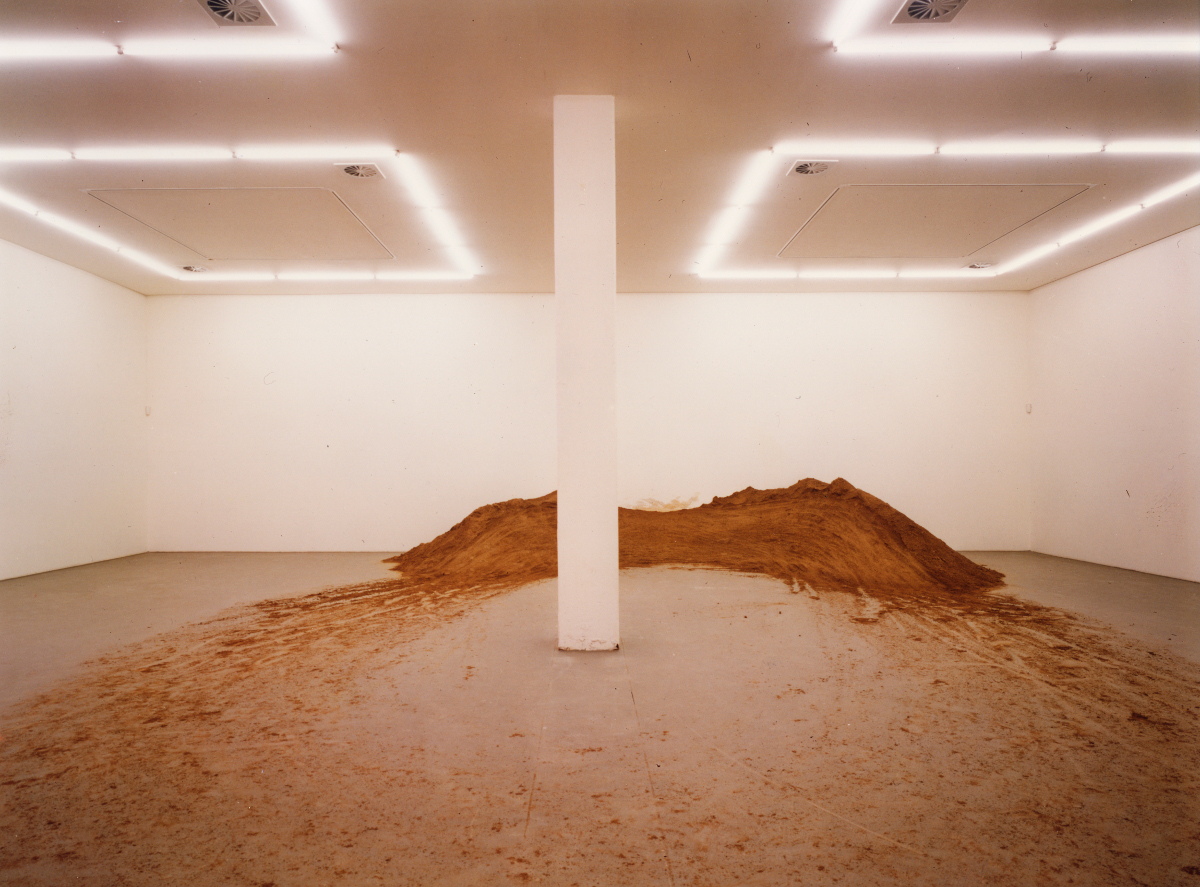 1993 0-100% (mit Cathy Skene), Friesenwall 120, Köln
1991 Arkadien (mit Cathy Skene), Thomas Backhaus Galerie, Düsseldorf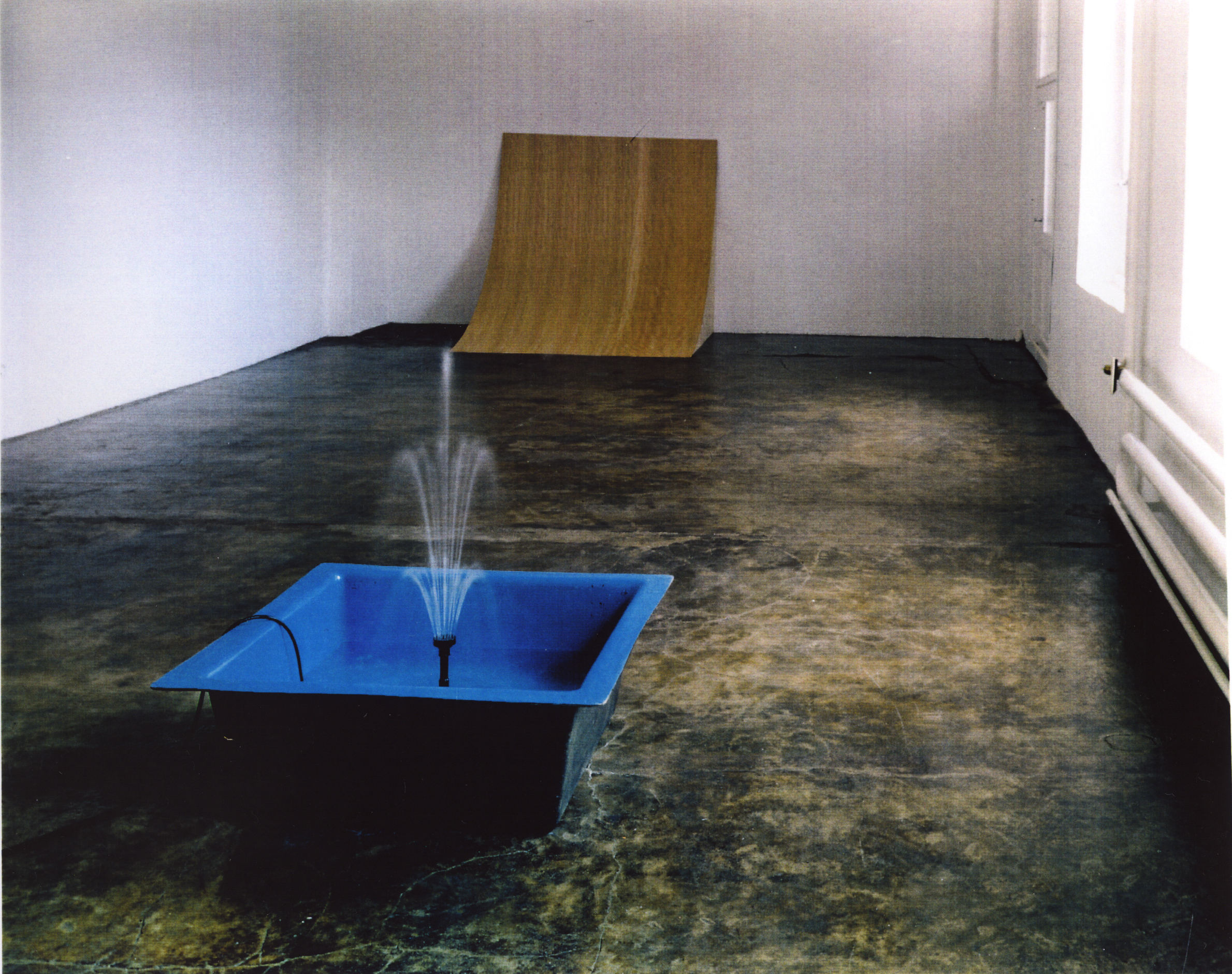 1990 Diorama, (mit Cathy Skene) Münzstr. 10, Hamburg
1989 Promised Land, Installation (mit Cathy Skene) Diskothek Unit, St. Pauli, Hamburg
---
Selected Group Exhibitions
2016 Let's Cultivate our Garden, Cappadox, Uchisar
2015 Cappadocia Struck, Cappadox, Uchisar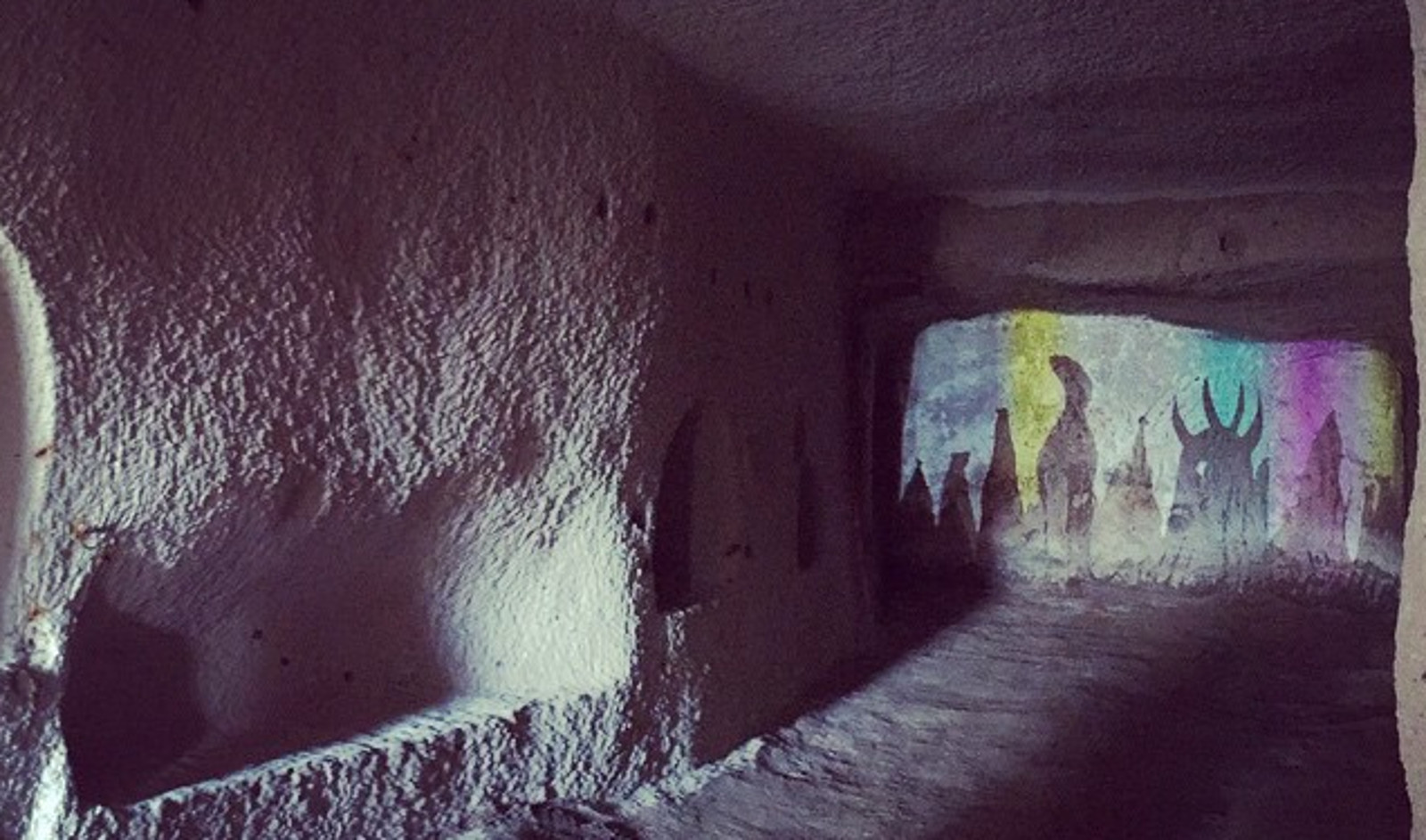 2014 Sleeping Producers, curated_by_Vienna, Charim Galerie, Wien
2014 Utopian Pulse, Wiener Secession
2013 13. Istanbul Biennale, Mum, am I a barbarian?, Istanbul2013 Agoraphobia, Tanas Berlin
2013 lines / Linien, kunsthaus dresden
2012 raumsichten – Topografie der Gemeinheit,Grafschaft Bentheim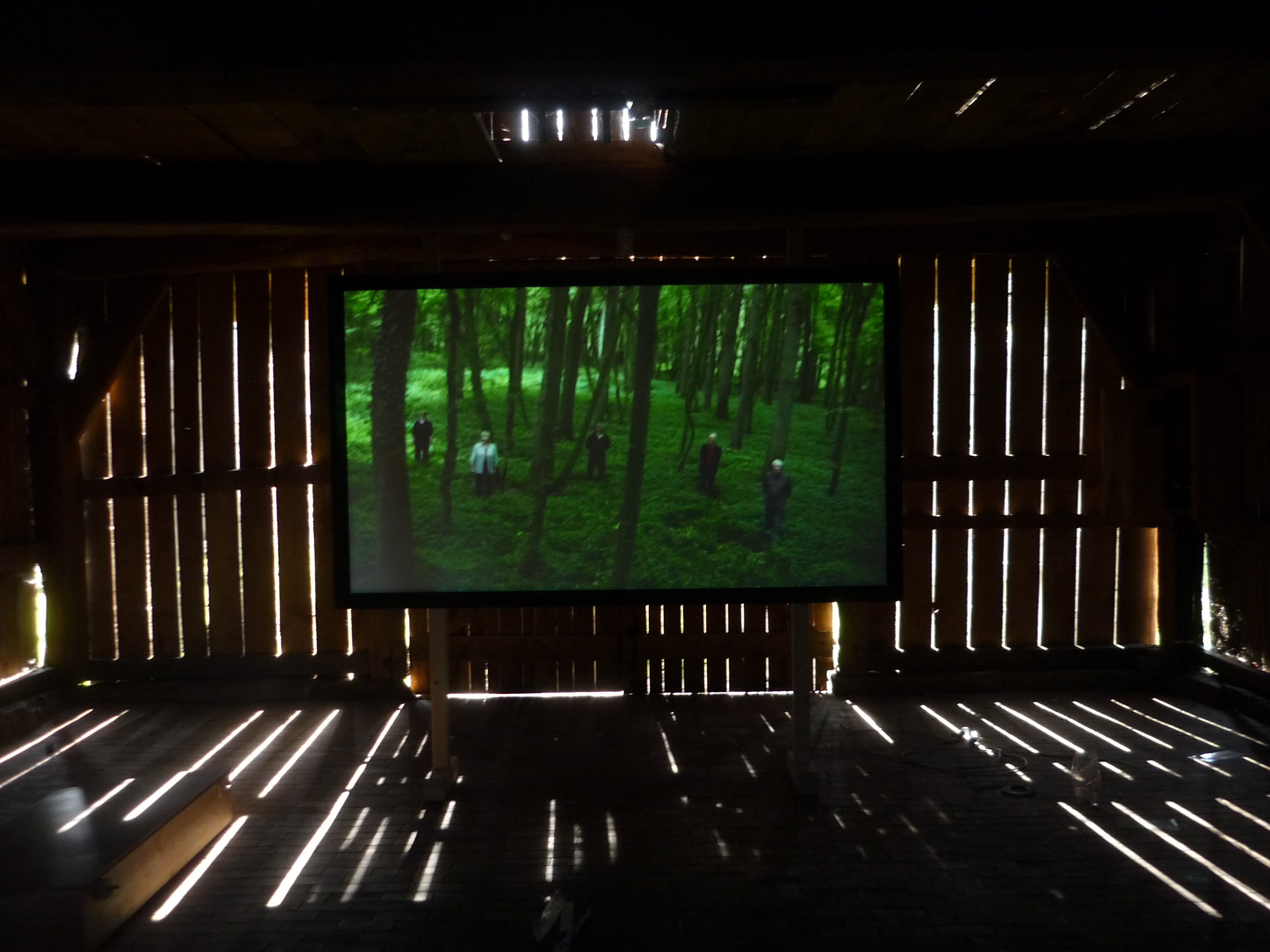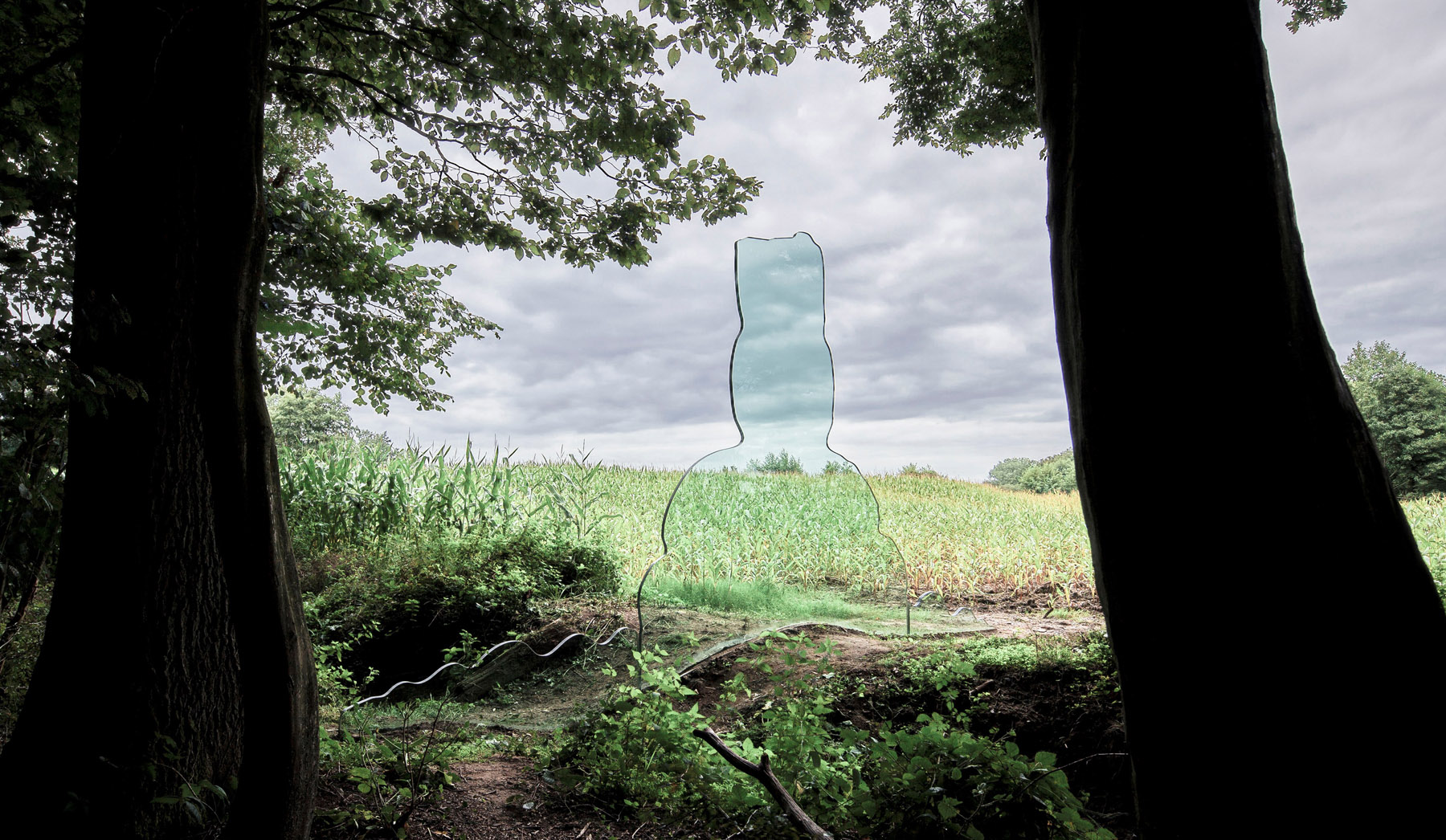 20112 oder 3 Dinge, die ich von ihr weiss – ästhetische Positionen zur Stadtentwicklung, Ausstellung The Chain – MAP, Bachstrasse 139 – 143 Düsseldorf
2011 KÜNSTLERISCHE KOMMUNIKATION UND INTERVENTION IM SOZIALEN RAUM. Vier Beispiele <rotor> Graz, Österreich
2010 B1/A40 – Die Schönheit der Großen Straße, RUHR:2010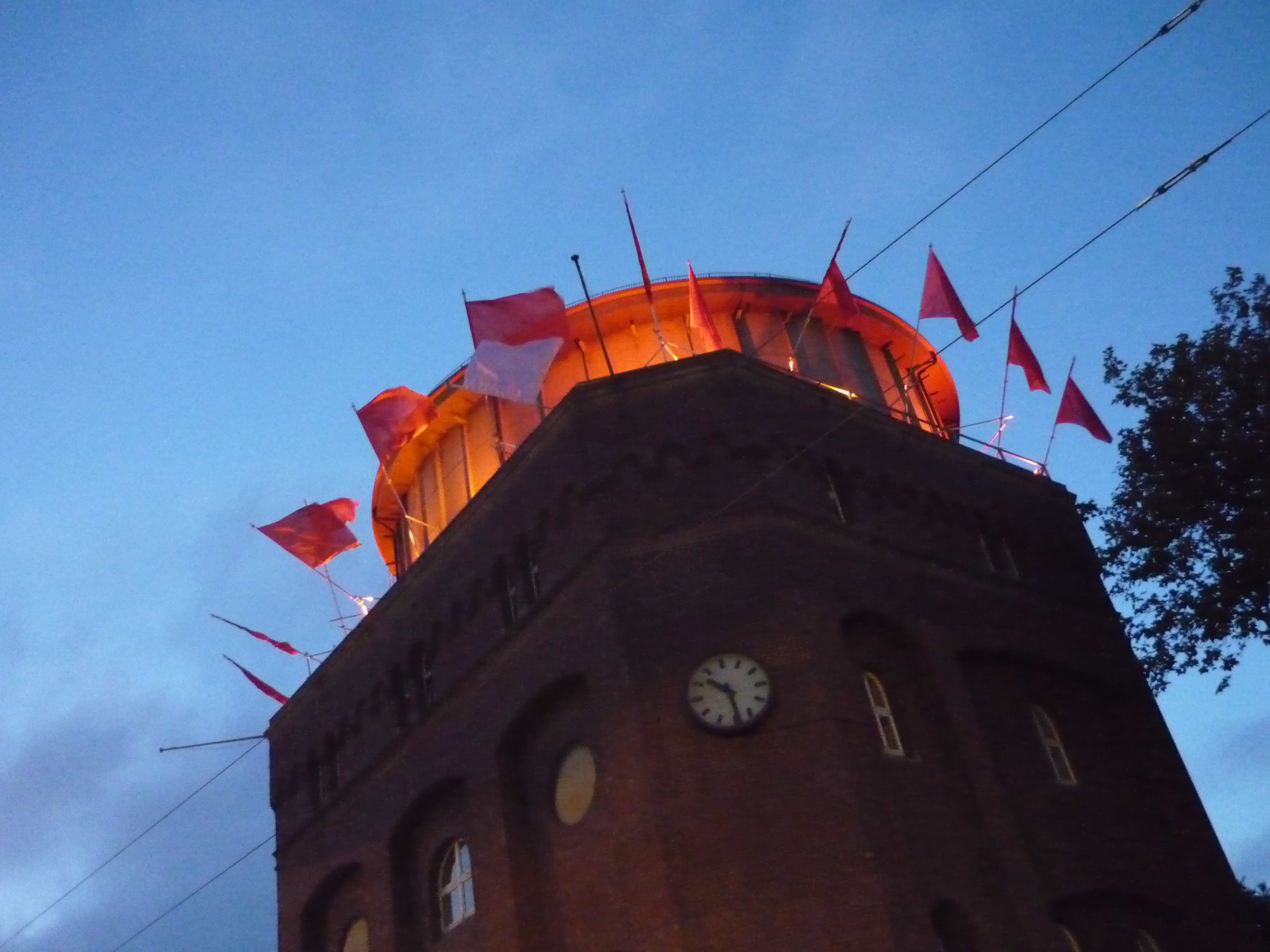 2009 Pudel Art Basel Hamburg
2009 Public Garden – Public Generation Neuer Aachener Kunstverein 2009
2009 Abbellimento Strategico: Public Turbulence / Disordine in pubblico Art ISOLA ART CENTER, Mailand, curated by Bert Theis
2008 Neue Künstlergeneration ›im Tal‹ Kunstverein Hasselbach
2008 parcours interdit, Künstlerverein Malkasten, Düsseldorf
2008 Participation Galerie Martin Janda, Wien
2008 Katastrophen, NGBK, Berlin
2007 Wilhelmsburger Freitag, Kunst im öffentlichen Raum, Hamburg
2007 Präsenzproduzenten, columbus art foundation, Ravensburg
2007 Walden, Kunsthaus Dresden
2007 Shrinking Cities, Museum of Contemporary Art Detroit
2006 Impossible India, Frankfurter Kunstverein
2006 Wild Capital – Wildes Kapital, Kunsthaus Dresden
2006 ForSale, Dresden
2005 Groundworks, Miller Gallery, Carnegie Mellon University, Pittsburgh
2005 World Information City Art Walk Bangalore
2005 Migrations Kölner Kunstverein
2005 Shrinking Cities 2, GFZK, Leipzig
2004 Ambulantes. Cultura Portátil. Centro Andaluz del Arte Contemporaneo, Sevilla
2004 Shrinking Cities 1,Kunstwerke Berlin, and Halle (2005)
2002 Site-seeing, Kunsthaus Wien
2002 Info-Offspring-Boogie-Woogie, Groupproject in Public Space, Dresden
2002 Documenta 11, Kassel
Park Fiction Installation, documenta11, 2002
2002 "Positionen 1 – 4", Kunstwerke Berlin, curated by Anselm Franke
2002 Big Social Game – Biennale Torino, curated by Michelangelo Pistoletto
2002 Ökonomien der Zeit, Museum Ludwig, Cologne, Akademie der Künste, Berlin, Migros Museum, Zürich, curated by Hans-Christian Dany
2002 Gewalt ist der Rand aller Dinge, Generali Foundation, Vienna, curated by Andreas Siekmann and Alice Creischer
2002 Der 3. Sektor, Galerie für Zeitgenössische Kunst, Leipzig, curated by Barbara Steiner and Doris Berger
2001 Televisions – Kunst sieht fern, Kunsthalle Wien, curated by Joshua Dector
2001 Der 3. Sektor, Kunstverein Wolfsburg, curated by Barbara Steiner and Doris Berger
2001Park Fiction, Arte al Centro, Cittadellarte – Fondazione Pistoletto, Biella, Italia, curated by Michelangelo Pistoletto
2001 Republiche dell' Arte: Germania – la costruzione di un immagine, Palazzo delle Papesse, Siena / Italia
2000 Werkleitzbiennale, Werkleitz
2000 Aussendienst, art-in-public-space, Hamburg
2000 Hey International Competition Style, T.E.N.T., Rotterdam
1993 Oppositionen & Schwesterfelder, Wiener Secession, Vienna; Museum Fridericianum, Kassel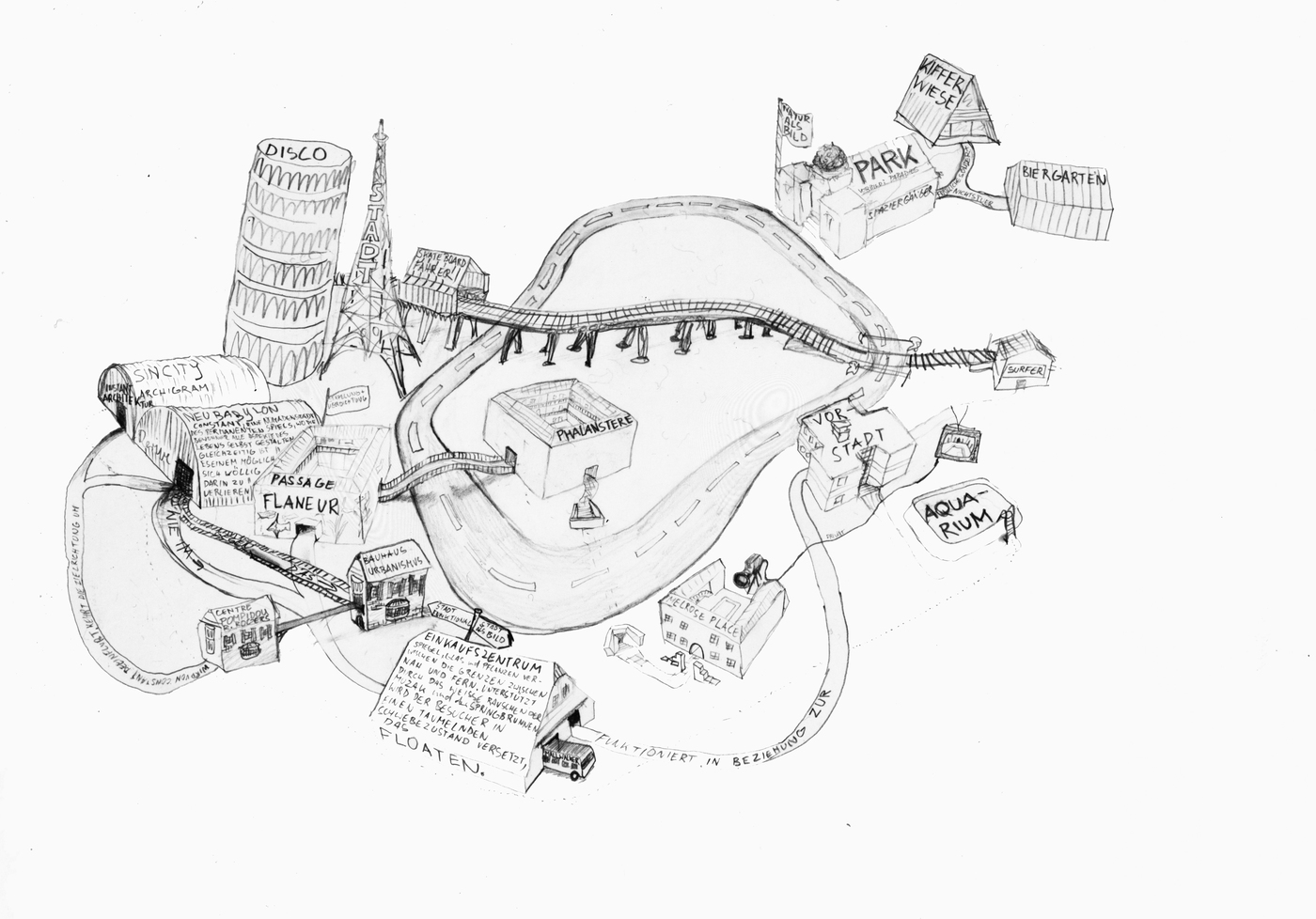 ---
---
curated by Christoph

Exhibition and Conference and Tour: Park Fiction Hamburg, Kunsthaus Dresden, Volksbühne Berlin
curated with Margit Czenki, Christiane Mennicke
with:
Ala Plastica, La Plata
Maclovio Rojas und borderhack, Tijuana
Sarai, Raqs Media Collective, Cybermohalla, Delhi
Galerie für Landschaftskunst, Hamburg
LIGNA, Hamburg
Isola Art Center, Bert Theis, Milano
Schwabinggrad Ballett
sponsored by Kulturstiftung des Bundes
Conference
with:
Dr. Brigitte Franzen
Prof. Grant Kester, UCLA San Diego
Anne Querrien, Paris
Prof. Dr. Nina Möntmann
Wanda Wieczorek
sponsored and commissioned by Kulturbehörde Hamburg
ContainerUni / Zeppelin Universität Friedrichshafen
Konferenz
curated with Margit Czenki
with:
CAMP / Shaina Anand, Bangalore
Teddy Cruz / Fonna Forman, San Diego
Prof. Axel Kufus, UdK Berlin, Design Reaktor Berlin
Markus Müller, Architect, Friedrichshafen
Iris Dressler, Director Württembergischer Kunstverein Stuttgart
sponsored by Zeppelin Universitätsgesellschaft and
Architektenkammer / Chamber of Architects, Baden-Württemberg
Exhibition and Talks as part of Utopian Pulse curated by Oliver Ressler and Ines Doujak
with:
Videoccupy, Istanbul
Megafonchor / Sylvi Kretzschmar
Esso-Häuser Film Team / Irene Budde, Olaf Sobczak
PlanBude
Echohäuser
Die Goldenen Zitronen
Wiener Secession (2014)
Württembergischer Kunstverein Stuttgart (2015)
Festival for urban explorations
curated for PlanBude with Margit Czenki and Renée Tribble
in cooperation with dérive – Zeitschrift für Stadtforschung (Wien)
with
Zanny Begg (Sydney)
Granby 4 Streets CLT (Liverpool)
Initiative Haus der Statistik (Berlin)
ExRotaprint (Berlin)
Marina Naprushkina / Neue Nachbarschaft // Moabit (Berlin)
Grandhotel Cosmopolis (Augsburg)
Doris Kleilein (Berlin)
Andrej Holm (Berlin)
XYZ Open City (Hamburg)
Angelika Levi (Berlin)
gaupenraub architects (Vienna)
Michael Klein (Vienna)
Booty Carrell, Cindy Looper, L.C. Knabe, Astral Taxi (Hamburg)
United People, Schwabinggrad Ballett & Arrivati (Hamburg)
and many more
supported and hosted by Gängeviertel, Hamburg
supported by Curating the City, Hamburg
23. September – 2. Oktober
sponsored Kulturbehörde Hamburg
---
Awards, Grants

1993 Hamburger Arbeitsstipendium für bildende Kunst
1994 Lichtwark Stipendium (mit Cathy Skene)
2003 Reisestipendium des Landes NRW nach Delhi/Indien
2014 Edwin-Scharff-Preis des Hamburger Senats
---
Seminars, Workshops
2003 Guest Lecturer at Akademie der Künste Vienna
2005-15 Guest Lecturer at Zeppelin Universität, Friedrichshafen
– Communication and Cultural Management
– Labor für implizites und künstlerisches Wissen / Creative Performance / Laboratory for implicit and artistic knowledge
2006 Associate des STUDIO for Creative Enquiry,
Carnegie Mellon University, Pittsburgh.
2009 Talk, MIT program in art, culture and technology, Massachussettes Institute of Technology, Cambridge/Boston
2010 University Ulyanovsk, Art in Public Space workshop in cooperation with Goethe Institut
2011 Drawing as Desiring Machine, Internationale Sommerakademie Salzburg
2011 Lehrauftrag Installation/Space, Kunsthøjskolen i Holbæk, DK
2012 Professur drawing, Internationale Sommerakademie Salzburg
2012 Lehrauftrag Malereiklasse, Kunsthøjskolen i Holbæk, DK
2014 Guest lecturer, Jutland Art Academy, Arhus
2014-15 Angewandtes Studierendenseminar:
Cultural Planning for Ravensburg / Kulturplan Ravensburg im Auftrag der Stadt Ravensburg with Margit Czenki, Prof. Martin Tröndle, Dieter Haselbach
2016 Guest lecturer, Studiengang Kultur der Metropole / Cultures of the Metropolis, HCU Hafencity University, Hamburg
---
---
---
Talks, Vorträge (Auswahl)

2016 Raumstrategien, Kunsthochschule Weissensee
2015 Kann Gestaltung Gesellschaft verändern? forum bauhaus, Haus der Kulturen der Welt Berlin
2014 Biennials: Prospect and Perspectives, ZKM, Karlsruhe
2013 The Creative Time Summit, Creative Time, NYU Skirball Centre, New York City
2013 The Istanbul Biennial Public Programme, IKSV, Istanbul
2012 Royal Academy of Art Stockholm
2012 Design Centrum Malmö
2012 Why design? HfbK Hamburg
2011 Württembergischer Kunstverein Stuttgart
2011 ÖGFA, Österreichische Gesellschaft für Architektur, Wien
2011 Rotor, Graz
2010 Det Fynske Kunstakademi, Odense
2010 Hebbel am Ufer, Berlin
2010 HMKV Dortmund
---
---
---
Voices, Praise and Press
Shaina Anand and Ashok Sukumaran writing as CAMP in Entry Points – The Vera List Center Field Guide on Art and Social Justice, No.1, New York, 2016:
"The breadth of engagement with the urban condition is perhaps what draws so many contemporary artists and activists to Schäfer's work, in and with the imaginations of the everyday life. We are all struggling with issues that seem temporary, but that are in fact unshakable and have deep roots. In other words, we feel that the artistic work done by Christoph Schäfer in the past two decades is an essential "archive" of what is possible with a combination of deep-historical-thinking and everday attention, with lightness, humor and music – and what is possible when aesthetics-politics are produced in a joint way that manifests as both carpentry (building activity) and charm (aesthetics)."
Amy Sherlock: Postcard from Anatolia – A report from the second edition of the Cappadox festival, in frieze, June 18, 2016
"Back in town, in an empty shop-front near the main square (the festival 'hub'), German artist Christoph Schäfer and his compatriot DJ Booty Carrell created Stüdyo Mistranslasion. While Carrell span records from his extensive collection of Afrofuturism, Turkofuturism and 1970s Anatolian funk, Schäfer painted the walls with an acid dream of mythical creatures and flying saucers: local lore and Byzantine iconography re-imagined and expanded, rendered in a loose graphic style borrowed from the Edo-period Japanese artist Hiroshige. Schäfer and Carrell are based in Hamburg, and explained that some of the best new Turkish music is currently being made there by artists whose parents were amongst the hundreds of thousands of Gastarbeiter (guest workers), recruited in the 1960s to drive the booming post-war West German economy. (A 'rotation clause' in the 1961 German-Turkish treaty originally gave migrant labourers a two-year work permit, after which time it was expected that they would return to their home country. Many stayed on after this stipulation was removed in 1964. and it is now estimated that there are around three million Turkish citizens living in Germany.) Stüdyo Mistranslasion was about music as migration: beats borrowed and recombined; things distinct but shared – including by the guys sweeping the street outside, who came in to listen and discuss, only to return later with music unknown to Schäfer and Carrell. Of all the projects, this felt the most supple: the best attuned to both the possibilities of dialogue (even when wordless) and the realities of its failure."
"His drawings touch on the importance of parks as political forums. Istanbul's Gezi Park is an especially good example of politics in public spaces. For hours, students, artists, professors and doctors sat together in Gezi Park to discuss politics – or simply make music. "As a result, the public debate and the political aspect take on a completely different quality," Schäfer said. One of Schäfer's drawings shows a park in Hamburg. For 15 years, Schäfer has participated in "Park Fiction," an artistic and socio-political project in a Hamburg park that serves as a prime example of public art. Through their own ideas and drawings, nearby residents have a say in the park's design. Out of solidarity, the park was renamed overnight to "Gezi Park Fiction."

"Political movements in other countries could learn a lot from the movement in Istanbul because the protests were done in a smart and clever way," said the artist. The Biennial is not a test of "civil disobedience," as it's been portrayed in media, said Schäfer, but a reflection of the events in Istanbul. "In the exhibition all the sore points are addressed. But because people today create their own political platforms, the Biennial is no longer the only bright spot," he added."
Kunstmarkt.com/Nicole Büsing & Heiko Klaas über raumsichten / kunstwegen 08.09.2013:
"Der Hamburger Christoph Schäfer setzt sich in gleich drei Werken mit dem mittelalterlichen Ideal des dörflichen Gemeinschaftsbesitzes, den Bauernkriegen und den sozialrevolutionären Wiedertäufern auseinander. Seine Arbeiten befinden sich im Samerrott, einem Genossenschaftswald mittelalterlicher Tradition. Kernstück von Schäfers künstlerischer Auseinandersetzung mit der historisch aufgeladenen Topographie der Gemeinheit ist ein Videofilm, der in einem frisch restaurierten Nebengebäude auf einem aus dem Mittelalter stammenden Bauernhof zu sehen ist. Ein eigens zusammengestellter Chor aus der einheimischen Bevölkerung besingt die historischen Vorkommnisse um den Wiedertäufer Jan Kuiper, der aus dem rund 90 Kilometer entfernten Münster vor der bischöflichen Obrigkeit floh und sich im Samerrott versteckt hielt."
"Die Stärke des Buches ist es, das städtische Geschehen aus der Perspektive des Alltags und dessen poetologischen Möglichkeiten sowie des Umherschweifens (dérive) zu sehen, zu interpretieren und zu agieren." schreibt Sophie Golz in Die unangeeignete Stadt, oder die Wünsche verlassen das Wohnzimmer über Die Stadt ist unsere Fabrik. "Der Stadtforscher und Marxist Henri Lefébvre und die Geschichte des Urbanismus stehen dabei Pate. Doch es geht weniger um eine Aktualisierung seiner marxistischen Theorie, vielmehr um die Erneuerung einer Erfahrungsweise von Stadt, die sich mit situationistischen Elementen verbindet – wie das Umherschweifen oder die Verweigerung von Arbeit – und mit verschiedenen Forderungen Lefébvres, wie etwa: »Wir mußten den Urbanismus selbst anklagen, […] als Ideologie und als Institution, als Darstellung und Wille, als Gegendruck, als Einrichtung eines repressiven Raums, der als objektiv, wissenschaftlich, neutral dargestellt wird.« (Henri Lefébvre (2003), Die Revolution der Städte. S. 231)"
Hamburger Abendblatt, 28.4.2011 (not exactly a review):
"Am Sonntag sind nach Polizeiangaben neben den DGB-Veranstaltungen zwei weitere Aufzüge in Altona geplant. Für 13 Uhr hat Euromayday Hamburg die Parade "Die Stadt ist unsere Fabrik" mit 2.000 Teilnehmern angemeldet und um 17.30 Uhr ist der Aufzug "Heraus zum revolutionären 1. Mai" mit 1.000 Teilnehmern vorgesehen."
skug #86, 4–6/2011: Johannes Springer bringt in der österreichischen Musikzeitschrift ein 4 Seiten Interview mit Christoph Schäfer zu "Die Stadt ist unsere Fabrik", Interventionen in den öffentlichen Raum, hauntology, kunst & politik in Hamburg und generell, Recht auf Stadt, die Rote Ruhr Armee und die Imagecity. Lehrreich, umfassend, ausgefeilt: Die Rückkehr der Verratenen Versprechen.
27.03.2011: Ralf Homann hat eine tolle Sendung Über das Haben und Brauchen einer kreativen Klasse für den Zündfunk des BR gemacht: Das Grade ist fast immer das Böse zitiert der Titel der 40 minütigen Sendung eine Zeichnung aus Die Stadt ist unsere Fabrik:
"Seitdem sich Städte nicht mehr nur als Selbstverwaltungen ihrer Bürger zur Daseinsvorsorge verstehen, sondern als unternehmerische Stadt begreifen, treten sie miteinander in den Wettbewerb. Innovation und Kreativität sind die Schlüsselbegriffe dieses urbanen Standortmarketings – mit dem Ziel Investoren und ihr Kapital anzulocken. Ob dies nun Großstädte sind wie Hamburg oder mittlere wie Ingolstadt – Künstler werden dafür gerne als Zugpferde instrumentalisiert. Aber mancherorts regt sich Widerstand. Der Zündfunk-Generator widmet sich deshalb am Beispiel der 'Kreativ- und Talentstadt' Hamburg und der 'Innovationshauptstadt Berlin' der Bedeutung von Künstlern und Kreativer Klasse für eine Stadt."
(Das Gerade ist fast immer das Boese – ueber das Haben und Brauchen einer kreativen Klasse' mit Christoph Schaefer (Hamburg), Ellen Blumenstein und Florian Wuest (Berlin) und Musik von Jacques Palminger, flight of the conchords, Emanuele Errante, 206, h g ich.t, dis*ka, LCD soundsystem, Chromatics.)
2011: Unter dem Titel L'artista e la città-fabbricca neoliberale schreibt Bert Theis im Mailänder Magazin millepiani urban 3:
"Per analizare le trasformazioni urbane e riflettere sulle lotte che stanno generando questi mutamenti, l'artista scrive e disegna. Il risultato è il libro Die Stadt ist unsere Fabrik / The City Is Our Factory, dal quale la maggior parte dei disegni che pubblichiamo sono tratte."
Ausserdem im Heft: Guy Debords Introduzione ad una critica della geografia urbana von 1955 und ein ganz neuer Text – Neuro Habitat – von Ubaldo Villani.
If you speak swedish, here is a link to a Radio Review of "The City is Our Factory" by Catharina Thörn.
"Flera före detta industristäder försöker fräscha upp sina varumärken och saluföra sig som kreativa miljöer.", heisst es dort, und weiter: "Längst har kanske Hamburg gått, där Europas största stadsomvandlingsprojekt just nu pågår: "Hafen City". Men sedan ett år tillbaka har de konstnärer som skulle skapat en kreativ atmosfär i staden, börjat protestera. I Obs berättar sociologen Catharina Thörn om en ny bok av en av initiativtagarna till protesterna: konstnären Cristoph Schäfer."
Here is the full text from sverigesradio.
"Von 9 bis 13 November war der konzeptuelle Künstler Christoph Schäffer in Uljanowsk zu Besuch."
schreibt Julia Sedova in der mehrsprachigen russischen Zeitung borders off am 15.11.2010,
"Im Rahmen des Projektes von Goethe-Institut Raum für Raum erzählte der Meister aus Hamburg über die Auswirkungen von Kreativität auf die sozialen Prozesse, in dem er ein Diashow mit Werken von berühmten Künstlern und seinem Projekt Park Fiction präsentiert hat. Christoph Schäfer ist ein Konzeptkünstler aus Hamburg, der das alltägliche Leben der Stadt beobachtet, die mit hohen grauen Gebäuden auf Menschen drückt."
Dieselbe Zeitung veröffentlicht nicht nur lustige Texte über das von Petra Reichensperger kuratierte Projekt, sondern auch lustige Fotos aus dem Workshop. Auf dem blog Urban Travellogue gibt's eine Beschreibung aus meiner Sicht.
"Die Aufregung war groß. Nicht die aufwendigen, budgetintensiven Kunstprojekte der Ruhr.2010 lieferten den interessanten Gesprächsstoff in Sachen Kultur, sondern Christoph Schäfers Projekt Auslaufendes Rot – Anti-Monument für die Rote Ruhr Armee in Essen und Dortmund." – "Unter den zahlreichen Veranstaltungen im Rahmen des Kulturhauptstadtrummels gab es keine andere Arbeit, die eine vergleichbare politische Debatte auslöste."
schreibt Justin Hoffmann im österreichischen Kunstmagazin Springerin (Heft 4, 2010). – Zum Text
Oktober 2010, zfm 03 (2/2010):
"(…) Ein Comicbuch, der Skizzenblock einer politischen Bewegung, eine Theoriebildung? Christoph Schäfer erfindet eine Urgeschichte des Urbanen, setzt Henri Lefebvres Thesen zur postindustriellen Stadt um, sieht sie im Kreativpool der Gentrifizierung, mit den Laptops hinter Latte-Bechern, mit den Skateboards der raumgreifenden Möglichkeiten einer Aneignung städtischen Raums oder in quasidokumentarischen Szenen der Hamburger Recht auf Stadt-Bewegung am Werk. Was hat Lefebvres Revolution der Städte aus den 1970er Jahren mit den entsprechenden Medienwechseln bis heute für eine Bedeutung im Hin und Her zwischen künstlerischer und politischer Repräsentation?"
Ulrike Bergermann hat für die Zeitschrift für Medienwissenschaft, ein Laborgespräch geführt: Maschinen aus Möglichkeiten: Die Stadt ist unsere Fabrik.
September 2010, Vogue:
"In Hamburg kämpft eine breite Koalition von ganz links bis ins bürgerliche Lager gegen Gentrifizierung und für ein facettenreiches urbanes Leben. Schäfer, Mitinitiator des Protests, hat ein kluges und originelles Buch über das Entstehen von Städten allgemein und den Hamburger Konflikt im Besonderen gezeichnet. Spector Books, 304 S., 28 €."
schreibt Bernd Skupin auf Seite 192 der deutschen Vogue über Christoph Schäfers Die Stadt ist unsere Fabrik
4. August, 2010: Under the title: "Gentrification will eat itself. Taking theory to the playground: Lefebvre for kids", Anna Richter writes in CITY, 14: 4, 464 — 469:
"Far from being a children's book alone, however, it accomplishes what planner-philosopher Lucius Burckhardt beautifully coined 'strollology'—the art and science of taking walks (Schmitz, 2004, p. 5). Flicking through the pages or getting lost in the detail, strolling through the book intrigues with seemingly mundane statements: 'the city belongs to us all, really' (p. 256). Such streetwise naivety, however, develops into a powerful confrontation with fantastic and fatal realities without losing sight of Adorno's warning (2005, p. 57): 'The almost insoluble task is to let neither the power of others, nor our own powerlessness, stupefy us.'
9. Juni 2010: Die UZ nimmt die geschichtsvergessene Polemik der WAZ aufs Korn: "Für die Westdeutsche Allgemeine Zeitung in Essen ist dieses Kunstprojekt eine Provokation." heisst es in einem Artikel von Werner Sarbok über Auslaufendes Rot – Anti-Monument für die Rote Ruhr Armee in seinem Artikel Kulturkampf in der Kulturhauptstadt.
22. Mai, 2010: DER SPIEGEL, Interview mit Philipp Oehmke. "Ein biblisches Warnzeichen": Der Künstler Christoph Schäfer, 45, über sein Buch "Die Stadt ist unsere Fabrik", in dem er in 158 Zeichnungen die Geschichte des Urbanen erzählt. (Leider ist folgender Satz der Kürzung zum Opfer gefallen: "SPIEGEL: Ihr Buch illustriert in Anspielung an den franzözischen Philosophen Henri Lefebvre sogar die "Revolution der Städte". Schäfer: Lefebvre meint damit die Aneignung der Städte durch ihre Bewohner. Ich finde, wir sehen erste Umrisse dieser urbanen Revolution. Nach UNESCO-Berechnungen lebt seit ein, zwei Jahren erstmals der größere Teil der Menschheit in Städten. Die Bedeutung von Städten wächst. Und da sind Auseinandersetzungen um städtischen Raum vorprogrammiert.")
10. Mai, 2010: Kathrin Kaufmann im uMagazine:
"Die Stadt, in der wir leben, verändert sich. Ständig. Und wir uns mit ihr. Weil die Stadt ein kollektiver Raum ist. Wir radeln an Baugruben und neuen Bürogebäuden vorbei, kaufen in neuen Shoppingcentern ein oder gehen zum letzten Mal in den alten Lieblingsclub, bevor er abgerissen wird. Was stehen bleibt, was gebaut wird, wer auf welcher Wiese liegen darf: Das ist ein ständiger Kampf zwischen Interessengruppen; ein Kampf um das Recht auf Stadt, wie es der französische Philosoph Henri Lefebvres in den 70er-Jahren ausdrückte. Der Hamburger Künstler Christoph Schäfer hat sich Lefebvres Thesen zur Brust genommen und sie in ein Bildessay mit dem Titel "Die Stadt ist unsere Fabrik" verpackt. Der Bau von Triumphbögen, die Aneignung von Swimmingpools durch Skater oder die Besetzung des Gängeviertels: In 158 Zeichnungen erzählt Schäfer die Geschichte der Stadt von ihren Anfängen bis zur aktuellen "Recht auf Stadt"-Bewegung in Hamburg – auf kreative und dennoch sehr aufschlussreiche Art und Weise."
16. April, 2010: Nicole Vrenegor im ak Nummer 549:
"Ein Bild sagt mehr als 1.000 Worte, heißt es. Es ist auf jeden Fall (interpretations-)offener, wie das bei Spector Books erschienene Buch "Die Stadt ist unsere Fabrik" zeigt. Auf über 300 Seiten bringt der Hamburger Künstler Christoph Schäfer theoretische Überlegungen zu Stadt- und Raumproduktion zu Papier, dies in enger Anlehnung an die Theorie- und Begriffsbildung des marxistischen Philosophen Henri Lefebvre. Hinzu kommen Bilder, die die Entwicklungen in Hamburg im letzten Jahr skizzieren und Bewegungsmomente festhalten. Dabei findet sich auch Nachdenkliches zur Rolle der Kulturschaffenden im Prozess der Gentrifizierung: "Gerade unsere radikalsten Gesten ließen sich am besten verwenden – zur Aufwertung von Immobilien, zur Identitätskonstruktion von Vierteln. Kaum gab es wo einen illegalen Club, eröffnete nebenan schon eine Cappucinobar, gefolgt von einer New-Media-Agentur (…) Wir waren Unternehmensberater", sagt eine Person, die sich im Café des Artistes (!) mit dem Autor unterhält. "Wir hatten also genau die Fähigkeiten erworben, die der Image-Kapitalismus braucht – visuell alphabethisierte, konsumkompetente Nischen-Nasen", erwidert dieser. Jedoch bleibt das Buch nicht beim Lamentieren über die Vereinnahmung von Subkultur durch städtische Imagepolitik stehen. Schäfer zeigt auch, wie vielfältige Initiativen aktiv versuchen, die "Wachsende Stadt mit Projekten zu umstellen" und sich neue Räume aneignen."
8. April, 2010, Hamburger Abendblatt:
"Die Debatte über die Gestaltung des Lebensraums Stadt, Stichwort "Gentrifizierung", treibt künstlerische Blüten. Derzeit beschäftigt sie das Schwabinggrad Ballett. Seine aktuelle Produktion "Business Punk City" zeigt es ab heute an markanten öffentlichen Orten wie der Roten Flora oder dem Gängeviertel.(…) Das Kollektiv rezitiert eigene Texte, zum Beispiel aus dem Buch des Hamburger Autors Christoph Schäfer "Die Stadt ist unsere Fabrik", aber auch Liedtexte der Hamburger Punkband Goldene Zitronen, deren Multiinstrumentalist Ted Gaier mit von der Partie ist."
März 28, 2010: Unter dem Titel "Lefebvre gezeichnet" schreibt "strickliesel" über "Die Stadt ist unsere Fabrik" bzw. in erster Linie über die Stadt und in der Stadt. Im Gehen. Ganz toll und auch unabhängig vom Buch unter: http://schaetzchen.blogsport.de/2010/03/28/lefebvre-gezeichnet-christoph-schaefers-die-stadt-ist-unsere-fabrik/
"Zunächst zum Buch selbst: Es ist mit 304 Seiten so dick wie ein Fabrikziegel und hat eine großartige Druck- und Papierqualität, so dass man sich fragt, ob man aus Versehen das Original-Skizzenbuch mitgenommen hat. Tolle Zeichnungen und tolle Stadtgeschichten, die ihren Anfang in der historischen Ursuppe haben und ihr Ende im Hier und Jetzt finden. Radikal subjektiv und assoziativ erzählt & erzeichnet ist das Buch im besten Sinne unterhaltend und schlau, da es zum Mitdenken herausfordert." "Grob nimmt die Lefebvre-Dichte gegen Ende des Buches ab und die Hamburg-Referenzen zu. Sicher ist, dass sich nicht alle Bilder sich von alleine herleiten lassen ohne ergänzende Erläuterungen. Ist aber auch nicht weiter schlimm. Oft ergeben sich über die Folge von Bildern und über die Wiederkehr von bestimmten Motiven assoziative Verknüpfungen. Ich empfehle: Mut zum Eintauchen und Gedanken-schweifen-lassen und picke mir einfach mal ein Bild raus… Warum gehen Leute gerne in komplizierten Stadtentwürfen spazieren?, lautet die bildgebende Frage auf S. 96, die auf einer Treppe startet und über das Blatt geht und dabei von verschiedenen farbigen Linien durchkreuzt wird. Der Text ist Teil des Bildes und umgekehrt. Kompliziert heißt: nicht gleich auf den ersten Blick zu durchschauen. Das Gängeviertel fällt mir ein und dass mal große Teile Hamburgs so verschachtelt ausgesehen haben bis zum Großen Brand 1842. (Kehrseite dieser uns heute so attraktiv erscheinenden Unübersichtlichkeit: Enge, schlechte hygienische Bedingungen und eben Brandgefahr). Trotzdem glaube ich auch, dass Stadt vor allem dann geschätzt wird, wenn die verdichtete Unterschiedlichkeit und die historischen Schichten von Stadt sichtbar werden."
Nov. 5, 2009: Charly Traktor / Lucas Flasch / Fortboy vom SUPRA Magazin interviewen Christoph Schäfer zu Kunst und Politik, Lefebvre und Recht auf Stadt, No BNQ und Es regnet Kaviar, Park Fiction und Skateboardfahren, Zeichnen und "Die Stadt ist unsere Fabrik":
"Wenn ich zeichne ist mir egal, ob es Kunst oder Politik ist – weil ich versuche, etwas rauszukriegen. Beide Beschreibungen schränken ein, worum es gehen könnte. Aber wenn man mit Kunst sowas meint wie: man möchte seine Mittel reflektieren, man möchte ne andere Sprechweise finden, man möchte die Sachen nicht immer auf die selbe abgedroschene Art formulieren, dann ist das etwas, wo ich sagen würde, das ist sowieso nicht verhandelbar, das muss man einfach machen. Das gehört zur Emanzipation der Menschheit durchaus dazu. Da kann man nicht hinter zurück.
Gerade die aktuelle Bewegung für ein "Recht auf Stadt" bringt beides zusammen. Der Begriff stammt ja ursprünglich von Henri Lefebvre, einem französischen Urbanisten, der mit den Situationisten in Zusammenhang stand. Und der hat einen sehr aufgeladenen Begriff von "Stadt": "Die Stadt ist der angeeignete Raum" oder "Die Stadt ist akkumulierte Unterschiedlichkeit"."
Oct. 3, 2009: Julia Wagner on Christoph Schäfer's lecture at MIT Visual Art Program; in: The Traveling Cube blog:
"…That good vibe was rewarded when the Liev Schreiber-esc man in dark-rimmed glasses with carefully wet-coiffed hair and camel-colored suite sat down in front of me and a fellow attendee … and shook my hand in introduction. Why not, I thought. I introduced myself."

"Schäfer began his presentation by commenting on Die Stadt (als) unsere Fabrik, and read aloud from his mighty sketchbook. The initial topic was coffee culture in urban spaces. He showed us slides of his sketchbook pages, one after another, which combined with his narrating to became an informed sort of visual associative ramble. His idea: coffee shops invite people to participate in and do specific kinds of creative and intellectual work. Eventually, after using coffee culture as an example in that way of creating a context into which one can bring one's creativity, he asserted that the city is a factory for ideas." The Video of the talk at the MIT is online and has more than 18.000 views.
2009: Annelie Pohlen im Kunstforum:
"Den schönsten Deklamateur mimt Christoph Schäfer als "Ziereremit" mit seinem Vortrag zu Stadt und Natur in einem imponierenden Mammutbaum – und hinterlässt "Flow Gently", Wortfragmente, die in den ausladenden Ästen ein ebenso poetisches wie gemeines Konzert der wuchernden Imaginationen und Täuschungen aufführen. Mit "Ziereremiten" haben Fürsten einst ihr Publikum in ihren 'paradiesischen Vorführungen' domestizierter Natur unterhalten. Auf Milton, den großen Poeten dieser sonderlichen Einsiedler, verweist eines der Blätter, aber auch auf die "Image City" der ökonomischen Ausgrenzungen, die "Totalität" in idealistischen wie in kapitalistischen Entwürfen, auf die romantische "Solitude" und die nomadisierenden Künstler zwischen Traum und Wirklichkeit der Stadt." (Markus Ambach Projekte »Public Garden – Public Generation« Neuer Aachener Kunstverein 8.6. – 26.7.2009)
Sept. 3, 2009: Niels Boeing in DER FREITAG über die neue soziale Unruhe in Hamburg:
"In Hamburg zieht eine soziale Unruhe herauf, wie es sie seit den Kämpfen um die Rote Flora nicht mehr gab. Stein des Anstoßes ist eine neue Phase der Gentrifizierung". Weiter heißt es: "Denn der Assoziation aus kritischen Gruppen, die derzeit entsteht, geht es nicht mehr nur darum, die schlimmsten Auswüchse der neoliberalen Stadtentwicklung zu beseitigen. Sie will weitergehen. "Wir fordern ein Recht auf Stadt", sagt Christoph Schäfer vom Aktionsnetzwerk gegen Gentrification Es regnet Kaviar und knüpft damit an den französischen Soziologen Henri Lefebvre an. "Die Stadt ist unsere Fabrik. Der Kampf um urbane Räume ist deshalb ein Kampf um unsere Produktionsgrundlagen.""
August, 2009: Svenna Triebler interviewt Christoph Schäfer und Rocko Schamoni zu Gentrifizierung und Latte Macchiato Kultur, in konkret o8, 2009
"Diese Kämpfe um urbane Räume sind zentral und werden noch sehr lange weitergehen, weil Städte wieder eine zentrale Funktion im Kapitalismus haben. Sie sind wieder zu einem zentralen Produktionsfaktor geworden. Man dachte eine Zeitlang, wir lagern die ganzen Büros und Verwaltungen auf die grüne Wiese aus, die Leute sitzen eh nur am Rechner, und die Fabriken schaffen wir in die Dritte Welt. Da war die Stadt nicht mehr das Zentrum der gesellschaftlichen Entwicklung. Jetzt ist sie es aber wieder. Und nun kommen auch Leute aus Kunst und Subkultur wieder ins Spiel, weil die Etablierung von Lebensstilen, also das erfinderische Moment darin, ein wichtiger Punkt in der Wertschöpfungskette geworden sind."
2008: Man kann Park Fiction auch kurz beschreiben – das schafft Carsten Klook in dem Artikel "Umarme deine innere Leiche!", einem Text über die Hamburger Off-Szene – was auch immer damit gemeint sein mag – im Textem Verlag:
"Cathy Skene und Christoph Schäfer präsentierten 1996 dem Kunstverein die Idee "Park Fiction", der 1997 ein Planungsbüro am Pinnasberg einrichtete. AnwohnerInnen und KünstlerInnen aus St. Pauli machten sich für den öffentlichen Park an einem Ort gegenüber von Dock 10 stark. Hier hatte die Stadt gerade einen neuen Bebauungsplan beschlossen. Ein Netzwerk aus sozialen Einrichtungen, Anwohnern, KünstlerInnen, Hafenstraßen-Aktivisten und dem Golden Pudel Club begann, die Ideen für eine Gestaltung zu sammeln und den Widerstand gegen die Bebauung zu mobilisieren. "Kollektive Wunschproduktion" wurde zum zentralen Arbeitsbegriff des Projekts "Park Fiction". Nach zehn Jahren Kampf wurde der Park 2005 eröffnet. Tausende kamen zum "Dauerpicknick gegen Gentrifizierung" und protestierten auch gegen die zunehmende Vereinnahmung des öffentlichen Raums durch eine entpolitisierte und desinteressierte Massentourismus-Event-"Kultur" in St. Pauli."
Le Journal des arts, 148, May 2002:
"Revolution non stop : Christoph Schäfer fait sien le cinéma militant des années 1970. Il manie, singe et réinvente quelques-uns des clichés de l'agit-prop au profit d'une dénonciation virulente de l'aliénation marchande. Transformée en cabine de projection ambulante, une Fiat Uno porteuse de slogans permet de profiter pleinement de la séance. Entre clip et brûlot post-situ, le film traite avec fraîcheur de capital et de révolte au début du XXIe siècle."
Axel Wieder on Revolution Non Stop in frieze Issue 56 January-February 2001:
"At first sight, Christoph Schäfer's response to the brief of 'Public Space' seemed not overly inventive in its neat incursion into film. Yet the 18-minute film-loop Revolution Non-Stop was screened in the same cinema where Schäfer had filmed its beginning and end. Some of the cinema's props were left among the audience. The film explores – after lingering in the cinema, which Schäfer described as the 'dream house of the collective' – pedestrian zones and shopping arcades; a recreation of the 'fashion of slowness' of 1839; a limousine ridiculously over-coded with insignias of style; and bargain hunters. Revolution Non-Stop offers, with its onslaught of concrete experiences, invention and borrowed snatches of discourse, a full-on revolution rush. At the same time, alongside the theorising protagonists of the film, the images shuffle through situations that you have only just passed on the street. The relationships between art and public spaces tie themselves into knots before they might be unravelled all too quickly, in all too plausible explanations."
Public Art in the Era of Nuits Blanches, Pablo España in Art Pulse Magazine
Speaking of working with communities, we must necessarily refer to the project Park Fiction started by Christoph Schaefer and Cathy Skene. In the mid-1990s, a group of residents and artists in St. Pauli decided to design a public park, but not in just any unused place, in a special place for which the city had just decided on a private initiative construction plan. The main idea behind Park Fiction is that residents should and can take over the city. After forming a collective of artists, activists and neighbors, a long and complex protest was started that ended up being successful and the city government forgot its initial plans. Thus, the group of residences on Hafenstrasse, which was the nucleus of the conflict, was converted into an area negotiated by neighbors, who ended up creating a park on the banks of the port of Hamburg. Furthermore, in the process, a network of neighbors was formed that, once this particular process was finished, dedicated itself to other projects. The general exhibition of the project was presented at Documenta 11 in 2002. This also speaks to us of a new paradigm of action at the intersection of art and politics. If the most radical modern artists have wanted to abolish art, many current creators want to continue operating within the system of art, since it is a communicative platform, but without submitting to its impositions or increasing (or forcing) the limits of its institutional permissiveness.
---
More inormation: